GREEN CREATIVE, the commercial grade LED lighting manufacturer, proudly announces the release of its 1x4' troffer.
Part of GREEN CREATIVE's new ELEVATE Series, the 1x4' troffer features a modern look, high quality architectural finish and offers high performance lighting distribution with a low glare lens. At 36W, this troffer features an exceptional efficacy over 98 lumens per watt that meets DLC® 3.0 Standard requirements.
"Following the same high spec requirements of the other ELEVATE Series products, the new 1x4' troffer helps complete the lineup," says GREEN CREATIVE Regional Sales Manager Zach Mix. "Now we are able to give our customers even more options to save on their retrofit or new construction projects."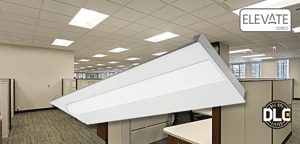 This troffer can be installed in minutes in either a new construction project or as a retrofit solution. It works on a 120-277V circuit and it's compatible with both 0-10V dimming and emergency LED drivers.
The 1x4' troffer is DLC qualified, lasts an extra-long 50,000 hours and is available in 4000K and 5000K CCT.
Detailed information and data sheet for the 1X4' 36W Troffer can be found here.
The ELEVATE Series also features the 2x4' and 2x2' troffers whose information can be found here.
This product is available through GREEN CREATIVE distributors and are ready to ship from the company's west coast and east coast distribution centers. For more information on where to purchase these products near you or how to become a distributor, please contact GREEN CREATIVE at: [email protected] or (866) 774-5433.
About GREEN CREATIVE
GREEN CREATIVE is a major solid state lighting development and manufacturing company based in the Bay Area, CA. The company specializes in retrofit lighting for the commercial market, offering a comprehensive line of LED lighting solutions. GREEN CREATIVE is fully integrated with strong R&D capabilities to constantly offer the latest technology available. For more information on GREEN CREATIVE please visit www.greencreative.com. For all of the latest updates follow GREEN CREATIVE on Facebook, Twitter and LinkedIn.