Focal Point® continues to improve its Seem family, expanding its distribution offering on the Seem® 1 Direct and Seem® 1 Direct/Indirect luminaires. The essential linear luminaires in the architectural lighting manufacturer's broad Seem portfolio are now available with a direct batwing distribution.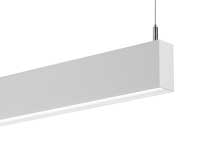 "At Focal Point, we continue to listen to our customers and strive to meet their needs by expanding and improving our Seem family to deliver a broad line of linear luminaires that elevate the architecture and design of interior spaces," said Mike Thornton, Chief Marketing Officer for Focal Point, LLC. "This new direct batwing distribution is another step in that direction."
The wide batwing distribution is available in the Seem 1 Direct suspended, surface mount, and recessed options and allows for 16-foot on-center spacing. Seem 1 Direct/Indirect suspended luminaires are also now available with the new distribution and allow for up to 20-foot on-center spacing.
The impressive performance of this new feature provides increased spacing between luminaires to help reduce cost while achieving optimal illumination, making it an ideal choice for budget-conscious commercial projects. These 1.5-inch aperture lights balance clean design with visual comfort to deliver the ideal illumination for commercial applications.
About Focal Point, LLC
Focal Point is a Chicago-based family owned and operated architectural lighting manufacturer like no other. Believing great lighting isn't just about meeting technical design requirements – it's about people – our focus is on creating great luminaire designs that stand the test of time, with beautifully simple forms to complete an architectural statement and with optimal illumination to comfortably define the space and its purpose. Learn more about our people, approach, and why we value trusted partnerships by visiting our web site at www.focalpointlights.com.