Focal Point® expands its Seem family with the introduction of Seem® 1 Point Source. The sleek 1.5-inch aperture linear luminaire delivers design flexibility with a combination of linear lensed illumination and integrated point source downlights.
"Solid State Lighting (SSL) has allowed us to develop luminaires that address multiple needs. Seem 1 Point Source delivers both general and accent lighting from one luminaire, and provides designers the flexibility to mix general and accent lighting to meet the functional needs of a space while also elevating the surrounding architecture," said Mike Thornton, Chief Marketing Officer for Focal Point, LLC. "This new Seem 1 family member is just another way Focal Point is bringing it all to light for the architecture and design community."
The luminaire is available in individual units or as linear runs, in suspended, surface mount, and recessed options with direct and direct/indirect distribution options. The integrated point source downlights can be specified with 4, 5, 6, 7 or 8-foot on-center spacing or positioned at the ends of runs. The point source downlights are also available in three distribution and two lumen output options to achieve the desired effect.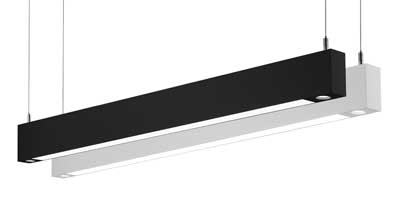 The lumen outputs for each light source can be individually specified and controlled for maximum flexibility. Additionally, multiple finishes: Black, Titanium Silver, and Matte White, and color temperatures provide customization options, making Seem 1 Point Source ideal for commercial projects such as offices, lobbies, corridors, and educational environments.
As with all Seem family luminaires, Seem 1 Point Source is part of the Right Light program, with delivered lumen outputs that stay consistent as technology upgrades occur. They also allow for custom programming of wattages and lumen outputs within the standard range to meet LPD requirements.
Bring harmony and unite a space with lines of light using Focal Point Seem products. To learn more about Focal Point's Seem 1 family visit https://www.focalpointlights.com/Seem.
About Focal Point, LLC
Focal Point is a Chicago-based family owned and operated architectural lighting manufacturer like no other. Believing great lighting isn't just about meeting technical design requirements – it's about people – our focus is on creating great luminaire designs that stand the test of time, with beautifully simple forms to complete an architectural statement and with optimal illumination to comfortably define the space and its purpose. Learn more about our people, approach, and why we value trusted partnerships by visiting our web site at www.focalpointlights.com.