Focal Point, a manufacturer of architectural luminaires, announced that this year commemorates the company's 25th anniversary. Founded on Chicago's southwest side in 1994, the family owned and vertically integrated manufacturer has continued to be focused on creating lighting solutions that stand the test of time.
"We have accomplished a lot and made major investments over the last quarter of a century, while always maintaining the same commitment we have had since day one," stated Christopher Thornton, President of Focal Point, LLC. "We are proud of the company we have become over the past 25 years, supporting our incredible customers with resources and services to improve their businesses and providing an environment for several hundred employees to develop their talent and help make us a better company."
Focal Point has not only lived up to its tag line, "Bringing it all to light", with innovative architectural lighting for the last two and half decades, but has also continued to listen to its customers to address needs beyond illumination.
In recent years, Focal Point broadened its portfolio of lighting solutions to encompass connected luminaires, acoustic solutions, and deliver a light source preferred by humans. The innovations focus on improving human comfort and resolving some of the challenges of today's commercial environment.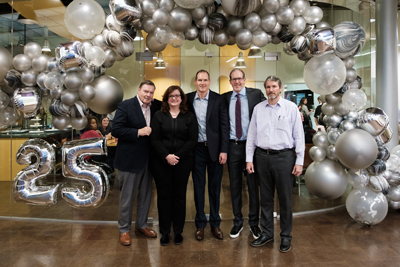 (The Thornton family celebrates the company's 25th anniversary. From left, Peter Thornton, Sr; Margaret Duhon; Michael Thornton; Christopher Thornton, and Peter Thornton, Jr.)
Looking to the future, Thornton said: "As the architecture and design community continues to focus on more human-centric environments, we look for new ways to service the industry while delivering on the original commitments that got us to this point, and living by our mission of providing lighting solutions that enhance architecture and elevate the human spirit."
"I've seen this company grow tremendously. The lighting business is much more complex today than when we started. I am proud of my children and how they have helped to build this organization, always striving for excellence and never settling for less. It is not just the products we make but the people that have contributed to the success of Focal Point," stated Peter Thornton Sr., Founder of Focal Point, LLC.
The 25th anniversary year will be punctuated by monthly service events providing Focal Point employees opportunities to be involved in and give back to the local community - one of the company's values - and commemorated on the company's social media channels. Follow the company's social media channels and the hashtag #focalpoint25years, or visit www.focalpointlights.com/25years to join the celebration!
About Focal Point, LLC
Focal Point is a Chicago-based family owned and operated architectural lighting manufacturer like no other. Believing great lighting isn't just about meeting technical design requirements – it's about people – our focus is on creating great luminaire designs that stand the test of time, with beautifully simple forms to complete an architectural statement and with optimal illumination to comfortably define the space and its purpose. Learn more about our people, approach, and why we value trusted partnerships by visiting our web site at www.focalpointlights.com.