Specifically developed to help support commercial lighting retrofit projects, the Juno Lighting Group Energy Solutions Site provides an easy way to find select Juno Lighting Group energy-efficient products that provide the best ROI for customers' needs.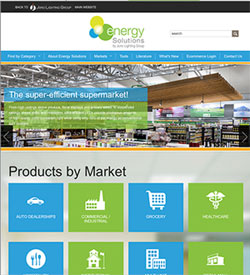 No Wasted Energy
Finding the right energy solutions for all your lighting projects is easy with several simple ways to search.
Find by Category – Choose your category and filter down to the product attributes. Need an 8-inch LED Downlight Retrofit for existing CFL downlight? Choose Retrofit LED and filter to 8-inch.
Text Box Search – Type in the part number, part of the part number or a keyword. From the displayed results filter down to find the product.
Market Search – Unique to Energy Solutions website, we have included the top eight retrofit markets as defined by our customers. Each Market page includes an easy-to-reference building illustration that identifies what Juno Lighting Group Energy Solutions product is best utilized among the many areas within the building.
Direct Links to Support Materials
Energy Solutions provides direct links to market brochures, product literature and videos, and new product information. The Energy Solutions "Tools" section provides audit and energy rebate/incentive support and will be expanded to include extensive ROI and Payback tools and a fixture equivalency tool.
Easy Access to Energy Solutions
On the top right corner of junolightinggroup.com is a link to our Energy Solutions section. And if you're navigating the main site, you will find Energy Solutions products identified by the Energy Solutions icon.
Visit Juno Lighting Group Energy Solutions and find LED lighting solutions that offer exceptional illumination, reduced energy consumption, and maintenance-free operation for virtually every application – indoor or outdoor, commercial, industrial and multi-family residential.