Have you ever complained about LED A19 bulb? If you have you are not alone. Here are some of the common complaints:

-

It's too heavy

-It's plastic (not glass)

-It has a bulky base

-It doesn't light all the way (cutting off half way due to driver base)

-It doesn't put enough light on the desktop

-It looks weird/ugly

-IT DOESN'T LOOK LIKE THE A19 BULB I KNOW.

Let's face it we all miss the look of the A19 incandescent bulb we grew up with. NOW the Aleddra Omni A19 offers the "classic" A19 look alone with the energy savings of an LED bulb.

The Aleddra Omni19 bulb is the first full-glass, dimmable LED A19 bulb in the US market. It looks exactly like the incandescent bulb that we all grew up with, and even your grandma won't be able to tell the difference. The Omni A19 is only 8 Watts with an output of 800 lumens and is UL certified, making it a perfect replacement for a 60W or lower wattage incandescent bulb. The Omni A19 bulb is rated for enclosed fixtures and thus perfect for residential and commercial applications. This very affordable Aleddra LED bulb comes with a standard 2-year warranty.

Will you let the Aleddra Omni A19 LED bulb exceed you and your customer's expectations?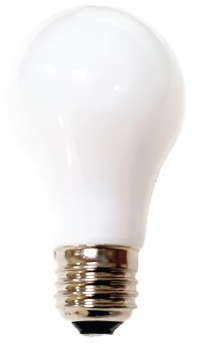 Click here to view the Aleddra LED A19 demo video.
Click here to download the cut sheet. For more information, please email [email protected] or call us at 425-430-4555.