Eureka®, an established leader in decorative lighting solutions, today announced the release of its Quadrant pendant. Quadrant's rounded, interlocking felted fins absorb sound while providing a vibrant look to the lighting.
The Quadrant pendant is designed to be used in open areas or in rooms where the surface material of the floor, walls, and ceiling reflect sound. In such spaces, Quadrant helps reduce ambient noise and absorb background chatter. Small clusters produce soft ambient light while creating an obstacle for the sound waves trapped within.
Quadrant is offered lit and unlit, and in heights of 23", 35" or 47". Standard colors are charcoal or silver gray, and the shade is also available in a wide array of premium colors. With multiple sizes and colors, and the choice between lit or unlit, designers can mix and match to create dynamic arrangements for various applications.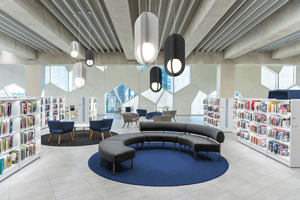 The shade is composed of two interlocked polyester felt panels, manufactured with recycled plastic bottles (PET), and 100% recyclable. When sound waves encounter the felt fibers, the fibers' slight movement absorbs a portion of the waves. PET material has a tested Noise Reduction Coefficient of 0.75 (NRC).
Made of impact resistant rotomolded MDPE, the translucent white diffuser creates a soft ambient light. Quadrant is offered with standard dimming options 0-10V (DV) or phase (DP).
"Offices and commercial spaces often have straight lines, sharp edges and square corners," said Louis Thomas-Bérubé, director of design at Eureka. "Adding just a few rounded elements like Quadrant softens a room and ties the interior together. And the sound absorption reduces the din, enhancing the work environment of an open concept office."
More information about Quadrant is available here: https://www.eurekalighting.com/en/products/family/quadrant.
About Eureka
Since 1987, Eureka, an Acuity Brands company, has been working relentlessly to enhance the environment of the end user with compelling lighting solutions. Our passion for designing and manufacturing best-in-class, distinctive, specification grade decorative luminaires enables lighting designers, designers, and architects to transform their concepts into reality. Our multi-award-winning contemporary lighting products are available throughout North America. More information about Eureka is available at www.eurekalighting.com.