Eureka (www.eurekalighting.com), an established leader in decorative lighting solutions, today announced the release of its Verner pendant. The "deco-performance" fixture combines high light output with a geometric aesthetic to enhance interior spaces while providing useable light. With no visible hardware, the pendant is intended for use in high ceiling applications, open areas or spaces where diminished focus on the ceiling is the aim.
A new take on a modern yet timeless shape with clean lines and simplicity, Verner's contemporary look is completed with a classic spherical diffuser. The cone-like shade ensures that light is directed downwards and is therefore suited to applications where designers want to avoid indirect light illuminating the ceiling.
Verner is designed for applications where a high output of downlight is required as much as a simple decorative element. Verner's powerful LED light source delivers 2,400 lumens in the standard version and more than 4,200 lumens in the HO (high output) version.
Available in 3000K, 3500K or 4000K, Verner can be cable or stem mounted. The exterior finish can be black or white as standard, while the interior of the shade remains white for optimal light reflection.
"Verner was created by assembling three basic geometric volumes," said Francois Renaud, Director of Design for Eureka. "A cylinder and a cone were combined for the shade and a sphere added for the diffuser. The result is a minimalist yet dynamic and powerful light fixture."
More information about Verner and other Eureka products is available at the Eureka website.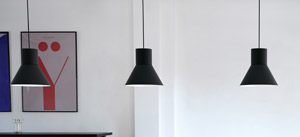 About Eureka
Since 1987, Eureka has been working relentlessly to enhance the environment of the end user with compelling lighting solutions. Our passion for designing and manufacturing best-in-class, distinctive, specification grade decorative luminaires enables lighting designers, designers and architects to transform their concepts into reality. Our multi-award-winning contemporary lighting products are available throughout North America. For more information, please visit: www.eurekalighting.com.
About The Luminaires Group
The Luminaires Group (TLG) is a leader in the specification-grade lighting industry. Through its unique niche brands (a-light, Cyclone, Eureka, Luminaire Led and Luminis), TLG provides a wide range of innovative lighting solutions for both interior and exterior use. Each company within TLG has a deep connection to the market segment it serves - designing, developing and manufacturing some of the industry's most innovative products.
TLG executes a strategy of acquiring companies that bring specific competences to the group and supports them in their continued evolvement. The organization leverages this combined knowledge and expertise to continuously improve process and product design, to deliver the best possible combination of cutting edge lighting and unsurpassed support. Each brand in the group retains its autonomy and brand identity facilitating an organizational culture that is nimble and able react to its own market needs.
Trusted by architects, landscape architects, interior designers and engineers, TLG products can be found illuminating spaces throughout North America. Specified in commercial, institutional, hospitality and urban environments, TLG's luminaires have been recognized for excellence and innovation by some of the leading authorities in lighting and design. They have received many awards, including several prestigious Red Dot Awards.
Find out more about the Luminaires Group at www.luminairesgroup.com.