Eureka (www.eurekalighting.com), an established leader in decorative lighting solutions, is pleased to announce that it has won a Red Dot Award for its Verner LED lighting fixture. It is the fifth year running that a Eureka product has been recognized with the prestigious award.
The Verner fixture stood out amongst more than 5,500 product entries from 55 countries. Verner was selected for outstanding design quality by a jury comprising experts from different disciplines who assessed products on criteria such as level of innovation, functionality, formal quality, longevity and ergonomics. The Red Dot design award dates back to 1955 and is one of the world's largest and most distinguished design competitions.
"We are delighted to be recognized with another Red Dot award" said Patrick Foley, president at Eureka. "Our track record in this competition validates our commitment to innovation, and we will continue to strive towards design excellence."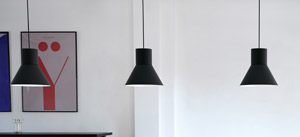 A new take on a modern yet timeless shape with clean lines and simplicity, Verner's contemporary look is completed with a classic spherical diffuser. The cone-like shade ensures that light is directed downwards and is therefore suited to applications where designers want to avoid indirect light illuminating the ceiling. Verner is designed for applications where a high output of downlight is required as much as a simple decorative element.
"I would like to congratulate the laureates sincerely on their wonderful success. The fact that their products were able to satisfy the strict criteria of the jury bears testimony to their award-winning design quality. The laureates are thus setting key trends in the design industry and are showing where future directions may lead," said Professor Dr. Peter Zec, founder and CEO of Red Dot, in reference to the winners.
Previous Red Dot winning products from Eureka include the Plate Out (2015) and Aperture (2016), Prince (2017), and Flynn (2018). More information about the Verner is available at the Eureka website.
About The Red Dot Design Award
In order to appraise the wide scope of design in a professional manner, the Red Dot Design Award is broken down into the three distinct disciplines: the Red Dot Award: Product Design, Red Dot Award: Brands & Communication Design and Red Dot Award: Design Concept. With more than 18,000 submissions, the Red Dot Award is one of the largest design competitions in the world. In 1955, a jury convened for the first time to assess the best designs of the day. The name and brand of the award were developed in the 1990s by Red Dot CEO, Professor Dr. Peter Zec. Since then, the sought-after Red Dot is the revered international seal of outstanding design quality. The winners are presented in yearbooks, museums and online. Further information: www.red-dot.org.
About Eureka
Since 1987, Eureka has been working relentlessly to enhance the environment of the end user with compelling lighting solutions. Our passion for designing and manufacturing best-in-class, distinctive, specification grade decorative luminaires enables lighting designers, designers and architects to transform their concepts into reality. Our multi-award-winning contemporary lighting products are available throughout North America. For more information, please visit: www.eurekalighting.com.
About The Luminaires Group
The Luminaires Group (TLG) is a leader in the specification-grade lighting industry. Through its unique niche brands (a-light, Cyclone, Eureka, Luminaire Led and Luminis), TLG provides a wide range of innovative lighting solutions for both interior and exterior use. Each company within TLG has a deep connection to the market segment it serves - designing, developing and manufacturing some of the industry's most innovative products.
TLG executes a strategy of acquiring companies that bring specific competences to the group and supports them in their continued evolvement. The organization leverages this combined knowledge and expertise to continuously improve process and product design, to deliver the best possible combination of cutting edge lighting and unsurpassed support. Each brand in the group retains its autonomy and brand identity facilitating an organizational culture that is nimble and able react to its own market needs.
Trusted by architects, landscape architects, interior designers and engineers, TLG products can be found illuminating spaces throughout North America. Specified in commercial, institutional, hospitality and urban environments, TLG's luminaires have been recognized for excellence and innovation by some of the leading authorities in lighting and design. They have received many awards, including several prestigious Red Dot Awards.
Find out more about the Luminaires Group at www.luminairesgroup.com.