Power management company Eaton today announced that its advanced Ephesus sports lighting light-emitting diode (LED) and controls system has been installed at Ford Fields, part of the Ford Park complex in Beaumont, Texas, to illuminate the park's 12 all-turf infield, championship-caliber youth baseball/softball fields. The new sports lighting retrofit solution features Eaton's patented system technology, including industry-leading dynamic control functions to provide the best lighting, while helping to reduce maintenance costs and energy use by as much as 75 percent.

Consistently ranked among the top 10 youth sports facilities in the U.S., Ford Fields is among the busiest competitive youth baseball/softball complexes in the country, typically hosting over 2,200 travel teams during 35 weekend tournaments annually.

"The ability to easily retrofit Eaton's Ephesus All Field fixtures directly on our existing infrastructure and offer a completely wireless control system made for a simple and efficient retrofit solution," said John Hughes, General Manager of Ford Park. "By providing the best environment for players and spectators, we can attract even more elite travel baseball and softball teams from around the country."

For the retrofit solution, Ephesus All Field 750 fixtures were installed on the existing infrastructure to replace the original 1500-watt metal halide system that was installed when the complex was built in 2002. The system's patented optical system offers Ford Field staff the ability to individually control the light fixture, including controlling the glare, light cutoff and spill light.

The multiple mounting options, low weight and low Effective Projected Area (EPA) make it the first LED fixture designed to easily retrofit into existing sports lighting infrastructure. Additionally, the self-contained electrical junction box and easily-deployed lighting control system dramatically reduce installation costs.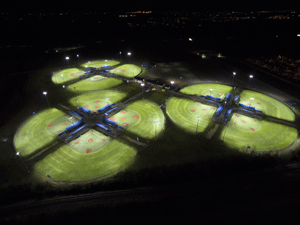 The unique wireless control system proactively monitors each fixture in the installation and provides real-time information on the individual fixtures and as well as the entire system, such as energy consumption and operating temperature. For further control, it also allows users to program functions such as scheduling and dimming right from their mobile devices. At Ford Fields, the lights are set to operate at 75 percent for practices but at 100 percent for games. Additionally, in the event of heavy rainfall, they illuminate just the turf infields for practices to protect the grass outfields.

"The All Field Series brings our experience with deploying high-output, extremely efficient LED lighting solutions at prominent professional sports venues to municipal fields of all sizes," said Mike Lorenz, president, Eaton's Ephesus Lighting business. "Since professional and municipal field managers face different challenges, our innovative technology is specifically designed to give venues like Ford Fields high-quality, controllable, cost-effective and energy-efficient lighting."

Ephesus solutions continue to lead the rapid acceptance of LED lighting at sports and entertainment venues worldwide. Hundreds of facilities have made the switch to Eaton's Ephesus LED sports lighting system including more than 25 professional sports venues in all major sports including: University of Phoenix Stadium (Arizona Cardinals); Hard Rock Stadium (Miami Dolphins); U.S. Bank Stadium (Minnesota Vikings); Bridgestone Arena (Nashville Predators); Globe Life Park in Arlington (Texas Rangers); and the first NASCAR track with LED lighting – the historic Martinsville Race Track in Virginia.

Eaton's Ephesus Lighting business manufactures high-output solid-state lighting solutions for challenging applications in indoor and outdoor sports and recreational markets. The business is focused on innovating advanced lighting solutions that will enrich and illuminate the world, by creating brighter, more vibrant and sustainable environments. For more information, visit www.eaton.com/ephesus, contact 315-579-2873 or email [email protected].

Eaton's electrical business is a global leader with expertise in power distribution and circuit protection; backup power protection; control and automation; lighting and security; structural solutions and wiring devices; solutions for harsh and hazardous environments; and engineering services. Eaton is positioned through its global solutions to answer today's most critical electrical power management challenges.

Eaton is a power management company with 2016 sales of $19.7 billion. Eaton provides energy-efficient solutions that help our customers effectively manage electrical, hydraulic and mechanical power more efficiently, safely and sustainably. Eaton has approximately 95,000 employees and sells products to customers in more than 175 countries. For more information, visit www.eaton.com.