After recently completing the installation of 637 solar panels on the roof of its carport which are expected to produce about 210,000 kilowatt hours of energy per year for its Alvarado Wastewater Treatment Plant, the Union City, California-based Union Sanitary District (USD) approached LEDtronics to explore energy-saving lighting solutions throughout its 33-acre wastewater treatment facility.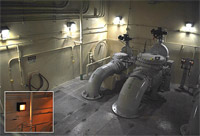 Furthering its long-term plan to lower its carbon footprint and protect the environment by creating sources of renewable energy for its buildings and reducing energy usage and costs, the District expects to complete a larger solar power project in the summer of 2011 at its Irvington Pump Station in south Fremont.
Following a site survey, LEDtronics recommended possibilities for a variety of energy-efficient LED lighting solutions to replace HID and fluorescent lamps around the plant, such as for post-top lamps, shoebox fixtures in parking lots and other traffic areas, wall-packs on several buildings, and various types of indoor and outdoor lighting.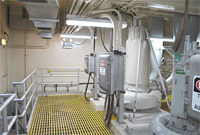 Before final budgeting is secured for the complete retrofit of LED lighting, USD decided on three areas within the plant to study and test the use of LED materials: In the Alvarado Pump Station, 25-watt wall-pack LED flood lights to replace 250-watt HPS fixtures and 4-ft fluorescent-replacing LED T8 tube lights for pump rooms; at the main distribution building, 4-ft LED wraparound lens-style T8 tube-light fixtures.
USD is an independent special district which provides wastewater collection, treatment and disposal services to the 328,000 residents and businesses of the cities of Fremont, Newark and Union City in the San Francisco Bay Area. It treats a dry weather average of 25 million gallons of wastewater per day.
http://www.ledtronics.com/Applications/ApplicationsDetail.aspx?id=81