Ed Pink has been building racing engines since 1946, and Ed Pink Racing Engines — the company he founded in 1958 — has enjoyed success in nearly every form of motor sports over the past 56 years.
From developing winning engines for the top teams such as Ford, Pontiac, Toyota and Infiniti in IndyCar, NASCAR and Formula 5000 races, to providing specialized motors for dragsters, sprint cars, Funny Cars, midgets and vintage race cars, the company's engines have accumulated over 100 victories and more than a dozen national championships, powering legends like Don Prudhomme and Tony Stewart to victory.
Nicknamed "The Old Master," Ed Pink built more than 5,000 engines during his 60-year career, mostly in his facility in an industrial area of Van Nuys, California. He sold the company six years ago to successful entrepreneur and vintage racecar collector and racer Thomas Malloy. It currently encompasses two buildings totaling approximately 12,000 square feet of floor space, where auto racing engines are built, rebuilt, tested, designed and developed for local, national and international customers.
When the time came to replace the outdated fluorescent lighting in their assembly and design areas where an eclectic combination of state-of-the-art precision equipment and machinery are used, Ed Pink Racing Engines turned to LEDtronics. Not only did LED lights provide more and brighter illumination, but they did so with dramatically lower energy consumption and producing only a fraction of the heat of fluorescents.
"The lighting is much better for our unique work environment," says General Manager Frank Honsowetz, former director of racing for Nissan North America who joined Ed Pink in 2001. "We are saving about $900 a month from the conversion to LED lighting," he notes. "At this rate, we will pay for the conversion in about 13 months."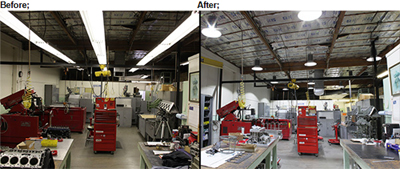 The company's existing lighting system consisted of 17 high-output T12 and T8 fixtures of 4 tubes, each consuming 115 watts; with ballasts using 30W per fixture, the setup demanded over 8330 watts of energy to operate.
"We replaced the older technology with 13 LED high-bay luminaires at 200W each, offering a brighter workshop illumination with almost 70% less energy consumption," says Mark Jarel, LEDtronics Street & Outdoor Lighting Product Sales Manager who is himself an avid sports car collector. "Using a total of only 2,600 watts, the LED lights saved the company 5,730 watts."
RTM Lighting & Electronics oversaw the installation.
An unexpected additional benefit Mr. Honsowetz has encountered is due to the fact that LED lights produce minimal heat as compared to their fluorescent or incandescent counterparts — notorious for wasting energy in the form of heat. "At our location here in Van Nuys we do experience outside temperatures over 100 degrees," he says. "With LED lighting, the interior temperature on hot days is easier to control." Van Nuys is a Los Angeles suburb that sits in the middle of the heat-prone San Fernando Valley.
Even visiting regular customers and vendors have noticed the lighting change, he adds. In the coming months, the firm plans to upgrade other machine shop areas to LED lighting from LEDtronics.
The LEDtronics HBL003-200W-XPW-101WD high bay surface light is dimmable and operates with a wide input voltage range 100 to 277 VAC, offering a wide beam of 6000K white light. It replaces 600-watt MH/HPS luminaires as well as fluorescent tubes, is UL listed and safety rated for wet locations.
In 2012, Ed Pink Racing Engines was the winner of trade magazine Engine Builder's inaugural "Performance Engine Builder of the Year" award. With brighter and more efficient LED lighting installed in its hubs of design and assembly, one can expect more awards and trade recognition in the company's future.
About LEDtronics®
Based in Torrance, California, LEDtronics, Inc., since 1983 has been a world leader in designing, manufacturing and packaging Solid State Lighting products and state-of-the-art LED's to meet the world's constantly changing lighting needs—from industrial control panel LED indicator lights to solid-state LED street light fixtures, LED Post Top or Pendant bulbs, High-Bay or Low Bay fixtures, LED Wall Pack Floodlights from direct incandescent- replacement based LED bulbs to direct fluorescent-replacement T8 and CFL LED tube lamps.
For more information, call LEDtronics at (800) 579-4875 or visit the website at LEDtronics.com.
Product Info:
The LED high-bay luminaiare HBL003-200W-XPW-101WD direct weblink:
http://www.ledtronics.com/Products/ProductsDetails.aspx?WP=2758