WAC Lighting President Shelley Wald has announced that the Vela Organic LED Chandelier and Wall Sconce have won a Product Innovation Award from Architectural Products magazine. The awards recognize outstanding products and applications in the architectural world including those from WAC, a future forward designer and fabricator of eco-friendly solid-state luminaires, electronics and technologies for the lighting industry.
"Creating a symbiosis of eco-friendly nanotechnology and modern aesthetics that simply inspires, our Vela OLED collection transforms the future of lighting into a unique design platform for today," explained Ms. Wald. "Designed and engineered to stimulate curiosity and aesthetic appeal among the design and specification community, this next generation of OLED luminaires raises the bar with a unique lighting experience of vision and sustainability."
The Vela OLED Chandelier and Wall Sconce showcase a unique light source from an ultra-thin aesthetic design, integrated with the most advanced nanotechnology available today. The OLED Chandelier is defined by a dramatic contemporary profile, laser-crafted of aluminum. It features 12 OLED panels that illuminate surfaces below and 12 additional OLEDs that shine upward to render a soft ambiance that evokes a lighter sense of space and visual comfort.
The Vela OLED Wall Sconce is designed in a unique decorative aluminum profile with 6 sophisticated OLED panels on its perimeter. Housed within this exceptionally thin luminaire, the panels provide a wide, even illumination with low glare. Perfect for use in hallways or as a decorative focal point, the brushed aluminum finished sconce uses 16.4 watts with OLED panels.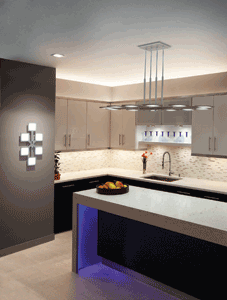 "We wanted to keep the concept of the traditional chandelier and sconce but re-imagine what these luminaires should look like in 2012," continued Ms. Wald. "We investigated ways to show off the thinness of this OLED technology and created a single piece, flat panel fixture that is reminiscent of a flat PC board. The flat electronic panel is more true to today's integrated circuitry designs that feature the PC board as 'brains' acting as the foundation behind many new and innovative technologies. To do this we used a flat sheet of aluminum only 6mm thick, which we laser-cut to form these profiles. There are 24 OLED's total in the Chandelier-- 12 up and 12 down; they are placed back to back in the thin aluminum housing. The Sconce features six panels."
With instant on/off and dimming capabilities, both Vela luminaires deliver mercury free, consistent beams of light without glare and are inherently sustainable, designed around energy efficiency and environmentally friendly technology. Each luminaire is individually crafted within WAC Lighting's wholly owned, Clean ISO 14001-certified manufacturing campus with in-house U.L. certified test labs. Vela has been crafted without the use of heavy metals or other rare-earth materials commonly used in other energy-efficient sources, which have major environmental impacts in the mining process.
Leading the sustainability movement, WAC employs stringent sourcing, water recycling, lead-free and zero-landfill capabilities in its manufacturing facilities. WAC Lighting's computerized fabrication and lean and flexible work processes minimize the amount of materials wasted in manufacturing. To reflect energy saving strategies, social progress and community involvement, WAC uses the brand standard "Responsible Lighting."
About Architectural Products Product Innovation Awards (PIAs)
The Architectural Products Product Innovation Awards (PIAs) determine and honor innovation in the development and refinement of building-related products that range the gamut from cladding systems to interior finishes. Judged by a group of 50 independent industry professionals, the program represents a mechanism to impartially review product and present products that are innovative and worth investigating.
The awards are designed to recognize manufacturers who have demonstrated outstanding leadership across many different platforms, be it education, sustainability initiatives, standards developments, etc. Products were assigned to judges—a diverse body including architects, interior designers, lighting designers and veteran A/E/C writers—based on their expertise and interest.
The PIA Awards are presented by Construction Business Media, headquartered in Chicago, is publisher of Architectural Products, Illuminate and Architectural SSL magazines. The company also operates the ArchLED Conference, markets and partners in TheContinuingArchitect.com educational platform, and maintains websites and electronic extensions of its print publications.
The WAC Lighting Story
WAC Lighting is a leading global manufacturer and innovative designer of lighting for Luxury Residential, Commercial, Hospitality, Institutional, Retail and Architectural applications, specializing in track, recessed, under cabinet, monorail and decorative lighting. WAC offers a broad range of award-winning products: LED and Low/Line Voltage Track and Rail Systems; LED Low/Line Voltage Recessed Downlights; InvisiLED®, LED tape systems for indoor and outdoor applications; Artisanal Glass Pendants and Wall Sconces; Display Lighting; LEDme® Step and Wall Lights; and SMART Transformers.
WAC Lighting Global Headquarters and Eastern Distribution Center is located in Port Washington, New York with Western Offices and Distribution Center in Ontario, California. WAC may be reached at 1.800.526.2588 or by visiting www.waclighting.com.