Power management company Eaton today announced the launch of its Ametrix ASYX 2.0 light-emitting diode (LED) luminaires, offering a wide range of asymmetric, scalable and controllable solutions for architectural indoor ambient and outdoor spaces. The high-performing, indirect-direct product family utilizes Eaton's proprietary patented AccuLED Optics™ system for optimal beam control and efficiency in high-ceiling applications including airports, convention centers, lobbies, atriums, open offices, churches and natatorium or pool environments.

"Our family of ASYX 2.0 LED luminaires is designed to replace high intensity discharge (HID) equivalent fixtures, offering lighting specifiers and building owners a wide selection of solutions in a compact and efficacious package," said Kraig Kasler, president, Eaton's Lighting Division. "The full line of scalable products can offer up to 40 percent in energy savings compared to equivalent alternative fixtures."

Ideal for both new construction and retrofit projects, the extensive ASYX 2.0 product line features a wide offering of lumen packages ranging from 2,355 to 30,162, replacing up to 1000-watt HID products in some configurations. The family is available in two optical distributions (forward and wide), six shapes and sizes, three mounting options (wall, single pendant and dual pendant) and offered in 2700 Kelvin (K), 3000K, 3500K and 4000K correlated color temperatures.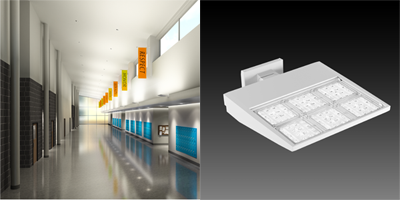 The ASYX 2.0 luminaires can be mounted upward or downward in multiple configurations including wall mount or single- and dual-pendant mount. Key features of the asymmetric luminaires include a minimalistic housing design, allowing the fixtures to fade into its surrounding while delivering high lumen outputs. Rotating optics (Light Squares) allow the fixtures to stay aligned with mounting directions, while giving the flexibility to rotate the light output in the direction needed. In addition, the fixtures offer +/- 20 degree up and down fixture adjustment, allowing for fine-tuning aiming in the field. This continuous aiming can be adjusted in 5-degree notched increments for perfect alignment.

The ASYX 2.0 can be installed in discreet mounting locations and can use integrated controls to compliment any controls system utilizing zero to 10 volt dimming standard protocol including optional Fifth Light Digital Addressable Lighting Interface (DALI) system for complete energy management. Eaton's optional Integrated Sensor Control System, which allows for both occupancy sensor and daylight harvesting control, is factory-installed so no additional wiring or special installation is required.

The fixtures are UL/cUL listed for wet locations and are also IP66 rated.

To learn more about Eaton's lighting solutions, visit www.eaton.com/lighting.

Eaton delivers a range of innovative and reliable indoor and outdoor lighting solutions, as well as controls products specifically designed to maximize performance, energy efficiency and cost savings. Eaton lighting solutions serve customers in the commercial, industrial, retail, institutional, residential, utility and other markets.

Eaton's electrical business is a global leader with expertise in power distribution and circuit protection; backup power protection; control and automation; lighting and security; structural solutions and wiring devices; solutions for harsh and hazardous environments; and engineering services. Eaton is positioned through its global solutions to answer today's most critical electrical power management challenges.

Eaton is a power management company with 2014 sales of $22.6 billion. Eaton provides energy-efficient solutions that help our customers effectively manage electrical, hydraulic and mechanical power more efficiently, safely and sustainably. Eaton has approximately 99,000 employees and sells products to customers in more than 175 countries. For more information, visit www.eaton.com.