Power management company Eaton will highlight its comprehensive offering of connected lighting technologies and solutions at LIGHTFAIR International (LFI) 2017, booth 1101, in Philadelphia, Pennsylvania, from May 9 to 11. Providing simplified methods for connecting buildings, communities and homes, Eaton's wired, wireless and low-voltage solutions enable customers to easily power, light, and connect their spaces by uncomplicating connected lighting.
"As a power management company, we are uniquely positioned and sourced to unlock the possibilities of solving complex issues," said Kraig Kasler, president, Eaton's Lighting Division. "Our full suite of connected lighting solutions, including our collaborations with industry leaders, simplifies solutions for our customers with projects of all sizes to get connected."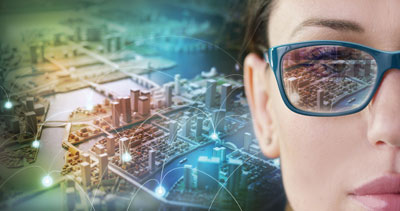 Eaton's scalable wireless technology for connected buildings and communities include:
-WaveLinx Wireless Connected Lighting System, a simple to install "no new wires" system that eliminates the cost and complexity of meeting code and programming advanced control systems while providing a flexible and reconfigurable wireless topology for on the fly space adjustments through a mobile app. Well suited for small and medium offices spaces and educational environments, the system lays the foundation for future data analytics by providing a connection to the building network and collecting data through one of the industry's smallest fixture integrated sensor.
-LumaWatt Pro Connected Lighting System powered by Enlighted allows enterprise customers to take advantage of the system's advanced LED lighting technologies and wireless sensing capabilities to acquire actionable, granular data on lighting energy performance, space utilization, real time location services and building system integration. The simplified system delivers a highly advanced Internet of Things (IoT) solution to gain operational efficiencies that go beyond lighting. This connected lighting and sensor solution for indoor and outdoor spaces is ideal for large commercial offices, industrial/manufacturing spaces, retail stores and healthcare facilities.
-ConnectWorks Connected Lighting System powered by CIMCON, which provides cities, utilities, departments of transportation and universities with simple, easy-to-manage, interactive solutions for outdoor street, roadway and utility lighting applications. End-users gain the ability to monitor and control their lighting infrastructure in real-time, while creating a scalable wireless ecosystem that can integrate with other smart grid platforms and key city services. The system provides asset management and real-time fixture status including automated fault detection and notifications for efficient maintenance.
Eaton's low-voltage solutions for connected buildings include:
-Distributed Low Voltage Power (DLVP) system that blends the benefits of both AC and DC power distribution, reducing installation labor by up to 40 percent and total installed cost of an LED lighting and controls project by up to 20 percent, while providing a completely flexible and electrically efficient solution. The system is designed for applications with repeated and matching configurations, such as schools, private and open offices, conference rooms, corridors/halls and stairwells.
-A collaboration with Cisco and its Digital Ceiling Framework, the Power over Ethernet (PoE) Connected System powered by Cisco is an enterprise system that passes power and data over one cable, harmonizing building control systems. The system is ideal for a new building or major building-wide renovation including those wanting a high-tech campus and building-level analytics, such as data centers, large scale offices, educational and healthcare environments.
Eaton's solutions for connected homes include:
-Eaton's Halo RL56 Wireless LED Downlight, which provides the lifestyle that modern technology can offer to home buyers and owners. The complete light-emitting diode Baffle-Trim Module installs in 5-inch and 6-inch aperture recessed downlights and when paired with a Zigbee-based system, the product provides smooth continuous dimming, white tuning from 2700 Kelvin (K) to 5000K, scheduling, grouping, geo-fencing, automations and remote access. The downlight works with both the Wink and Samsung SmartThings platforms, as well as Alexa via these platforms.
-Eaton's MS180BT Bluetooth-enabled motion sensor allows users to control outdoor security lighting from the convenience of a smart device. Adjust motion sensitivity and duration settings, photocell sensitivity, or control a fixture manually without touching a light switch. This motion sensor comes with a free app for iOS and Android devices and is compatible with any LED or incandescent fixture utilizing standard ½-inch threading.
Eaton will also showcase its advanced Ephesus sports lighting technology that is transforming the modern day sports and entertainment experience. Featuring industry-leading control functions, the LED system gives facility operators unsurpassed control to enhance the viewing experience for spectators while reducing energy use by as much as 75 percent. The innovative control system is available with 100 percent dimming capabilities, color temperature tuning and advanced control capabilities within each fixture.
To learn more about the Eaton's connected lighting capabilities, visit the company's booth at LIGHTFAIR International, booth 1101. For more information on Eaton's lighting solutions, visit www.eaton.com/lighting.
Eaton delivers a range of innovative and reliable indoor and outdoor lighting solutions, as well as controls products specifically designed to maximize performance, energy efficiency and cost savings. Eaton lighting solutions serve customers in the commercial, industrial, retail, institutional, residential, utility and other markets.
Eaton's electrical business is a global leader with expertise in power distribution and circuit protection; backup power protection; control and automation; lighting and security; structural solutions and wiring devices; solutions for harsh and hazardous environments; and engineering services. Eaton is positioned through its global solutions to answer today's most critical electrical power management challenges.
Eaton is a power management company with 2016 sales of $19.7 billion. We provide energy-efficient solutions that help our customers effectively manage electrical, hydraulic and mechanical power more efficiently, safely and sustainably. Eaton is dedicated to improving the quality of life and the environment through the use of power management technologies and services. Eaton has approximately 95,000 employees and sells products to customers in more than 175 countries. For more information, visit Eaton.com.