Power management company Eaton, a 2015 ENERGY STAR® Partner of the Year, today announced the launch of The Lighting reSOURCE, a 24/7 online hub providing lighting industry professionals from veteran to novice with information, news and original content designed to inspire and educate.

"Our fast-paced industry is constantly changing with new regulations, advanced technologies and trends, and lighting professionals continue to need timely information," said Kraig Kasler, president, Eaton's Lighting Division. "With our over 100 years of expertise, we hope The Lighting reSOURCE can energize and enhance our customers' knowledge and serve as an inspiring and educational resource to assist them with their businesses."

The Lighting reSOURCE is designed to engage Eaton's community of architects, builders, designers, engineers and lighting specifiers who are dedicated to advancing the lighting industry. The site features educational content including energy and light-emitting diode (LED) tool kits, incentive maps, energy savings calculators and original content about lighting industry trends, regulations and innovations, in addition to photo galleries to inspire designs.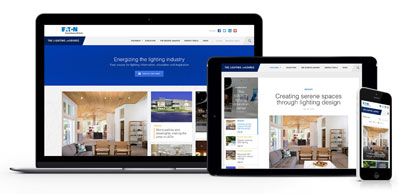 The site also includes Building Information Modeling (BIM) content and a BIM questions and answers section, where visitors can ask Eaton's lighting BIM professionals questions. In addition, the site also features content and training information from Eaton's industry-leading educational center, the SOURCE. Lastly, The Lighting reSOURCE will also be home to the company's annual SOURCE Awards national lighting design competition for students and professionals.

To explore The Lighting reSOURCE, visit http://TheLightingreSOURCE.eaton.com. For more information on Eaton's lighting and controls solutions, visit www.eaton.com/lighting.

Eaton delivers a range of innovative and reliable indoor and outdoor lighting solutions, as well as controls products specifically designed to maximize performance, energy efficiency and cost savings. Eaton lighting solutions serve customers in the commercial, industrial, retail, institutional, residential, utility and other markets.

Eaton's electrical business is a global leader with expertise in power distribution and circuit protection; backup power protection; control and automation; lighting and security; structural solutions and wiring devices; solutions for harsh and hazardous environments; and engineering services. Eaton is positioned through its global solutions to answer today's most critical electrical power management challenges.

Eaton is a power management company with 2014 sales of $22.6 billion. Eaton provides energy-efficient solutions that help our customers effectively manage electrical, hydraulic and mechanical power more efficiently, safely and sustainably. Eaton has approximately 102,000 employees and sells products to customers in more than 175 countries. For more information, visit www.eaton.com.