Power management company Eaton will showcase technology for modern lifestyles with its latest residential solutions for builders and home buyers at the PCBC 2017 show, booth 2041, in San Diego, California, on June 28 and 29. Eaton will highlight its portfolio that is helping enable the connected home of the future, including innovative LED lighting, residential energy management, backup power and wiring devices solutions.
"The future of home connectivity is bright and home buyers are looking to builders and contractors to provide the latest in innovative, energy-efficient solutions," said Brad Paine, vice president and general manager, Eaton's Lighting Division. "Whether building residential properties, renovating a residence or raising a family in a single- or multi-family building, builders and homeowners can rest assured that Eaton's products help increase safety and security, reduce energy costs and save time and money."
Visitors to Eaton's booth can learn more about today's connected products, including compatible wireless solutions for tech-savvy homeowners, new feature-rich solutions and products to help homeowners live safely and securely with minimized energy costs.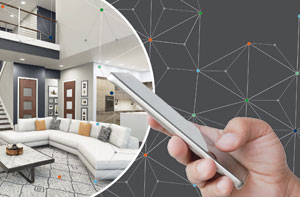 Eaton will also highlight and preview some of its newest technology offerings at PCBC, including:
- Eaton's Energy Management Circuit Breaker (EMCB), which combines circuit breaker technology that protects circuits in the customer's loadcenter, with internet connectivity and on-board intelligence, making a home's circuits "smart." The intelligence made possible by this technology opens the door to better energy use information, helping simplify residential energy management and optimize utility grid reliability.
- Eaton's Halo RL56 Wireless LED Downlight, a complete light-emitting diode Baffle-Trim Module that provides smooth continuous dimming, white tuning from 2700 Kelvin (K) to 5000K, scheduling, grouping, geo-fencing, automation and remote access. The downlight works with both the Wink and Samsung SmartThings platforms, as well as Alexa via these platforms.
- Eaton's MS180BT Bluetooth-enabled motion sensor, allowing users to control outdoor security lighting from the convenience of a smart device. Adjust motion sensitivity and duration settings, photocell sensitivity, or control a fixture manually without touching a light switch. This motion sensor comes with an app for iOS and Android devices and is compatible with any LED or incandescent fixture utilizing standard ½-inch threading.
Eaton's broad range of products for residential building, including advanced LED lighting technologies, loadcenters, circuit breakers, surge protection devices and backup power will be on display at the company's booth.
To learn more about the Eaton's residential building and lighting solutions, visit the company's booth at PCBC, 2041, or www.eaton.com/residential and www.eaton.com/lighting.
Eaton's electrical business is a global leader with expertise in power distribution and circuit protection; backup power protection; control and automation; lighting and security; structural solutions and wiring devices; solutions for harsh and hazardous environments; and engineering services. Eaton is positioned through its global solutions to answer today's most critical electrical power management challenges.
Eaton is a power management company with 2016 sales of $19.7 billion. We provide energy-efficient solutions that help our customers effectively manage electrical, hydraulic and mechanical power more efficiently, safely and sustainably. Eaton is dedicated to improving the quality of life and the environment through the use of power management technologies and services. Eaton has approximately 95,000 employees and sells products to customers in more than 175 countries. For more information, visit Eaton.com.