Targetti now offers an energy efficient low voltage LED flexible light for continuous consistent color in both indoor and outdoor applications. The extremely flexible LED light features two profile choices: a top-bend profile with 180 degree visibility for arcing applications or side-bend profile with 240 degree visibility. The flexible LED luminaire is available with adjustable lengths for varied architectural applications and includes an array of accessories, color temperatures, profile choices and multiple dimming options. The Title 24 and ROHS compliant light provides an easy to install IP67 application that is ideal to conform to unique curvatures of architecture.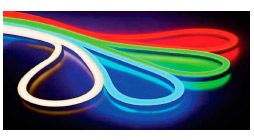 The flexible LED luminaire can be mounted with a choice of mounting clips or an aluminum mounting channel. It is available in continuous lengths of up to 30' per run (2.8W/ft) and up to 20' per run (4.2W/ft.). DuraFlex NEON is available in 4.2W Static White (2700K / 3000K / 3500K / 4000K) or 2.8W in Static Color (Red / Green / Blue / Yellow / Orange) and Static White (2700K / 3000K / 3500K / 4000K), 2200K and 2400K are available upon request.
-180 degree visibility for Top Bend style
-240 degree visibility for Side Bend style
-4.2W per foot Static White
-2.8W per foot Static White or Color
-Extruded Silicone with White diffusion lens
-2 Mounting Clips options or Aluminum Mounting Channel
-Round lens profile
-24V
-Meets Title 24 Compliance for energy savings
About Targetti
Targetti specializes in the field of interior and exterior architectural lighting products and creative custom solutions that are developed in response to specific functional and aesthetic challenges. As one of the most respected and recognized manufacturers of sophisticated architectural lighting solutions, Targetti offers a wide range of indoor and outdoor architectural lighting and creative custom solutions for the U.S. market. We specialize in a variety of recessed downlights, linear and in-ground LED solutions made with the finest quality and craftsmanship.
Targetti products are sold in the U.S. exclusively through the Targetti Group North American headquarters located in Costa Mesa, California and Targetti USA sales representatives. For a complete listing of available products and representatives, visit www.Targetti.US.