Cyclone (www.cyclonelighting.com), an established manufacturer of outdoor luminaires, today announced the release of its Trika family. The range includes post-top, side-mount, bollard and wall-mount products for use in any outdoor space. All products in the range have an advanced light engine and optics, and are IP67 rated for harsh weather conditions.
The Trika family has a contemporary aesthetic that is uniform throughout the family, offering flexibility to mix and match to meet any design intent. Walkways, driveways, outdoor spaces and building entrances can all be illuminated with a consistent lighting scheme due to the range of products in the family. The modern, clean line design enables Trika to blend seamlessly into any exterior urban or commercial environment.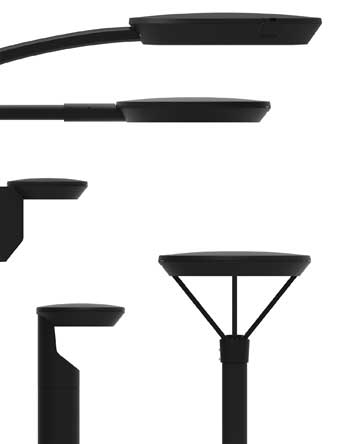 All Trika products feature an advanced light engine. Custom built, the light engine is fully sealed and combines state-of-the-art optics and thermal management to offer the most advanced and durable high performance lighting available.
Trika products also includes a state-of-the-art acrylic injection molded lens that provides the performance of a cobra head in a sleek decorative fixture. All standard IES Roadway types are available, and the advanced light engine optics and lens combination enables precise directionality allowing any custom distribution type to be created.
"We have combined a modern aesthetic with high performance and the ability to create custom distributions if required", said Jean-Francois Simard, Cyclone president. "The Trika family gives a full set of options to the designer of any exterior lighting scheme."
Feature summary:
- Available as post-top, side-mount, wall-mount and bollard
- Up to 20,000 delivered lumens depending upon chosen model and options
- All IES Roadway distribution types
- Custom distribution types available
- IP67 rated for harsh weather conditions; -40°C/-40°F to 45°C/113°F
- 3000K or 4000K standard color temperature options
- Multiple color finishes in smooth or textured
Trika products are available immediately. More information on the range is available at http://www.cyclonelighting.com/en/produits/?search=trika.
About Cyclone
Founded in 1999, Cyclone Lighting designs, develops and manufactures outdoor luminaires and accessories in its production facility located north of Montreal. From its inception, Cyclone has followed a philosophy that excels in quality, performance and durability. Cyclone Lighting continues in this direction by providing superior quality luminaires and decorative outdoor accessories and by focusing on key product strengths: photometric performance, tool-free maintenance and a broad range of luminaire styles. For more information, please visit: www.cyclonelighting.com.
About The Luminaires Group
The Luminaires Group (TLG) is a leader in the specification-grade lighting industry. Through its unique niche brands (a-light, Cyclone, Eureka, Luminaire LED and Luminis), TLG provides a wide range of innovative lighting solutions for both interior and exterior use. Each company within TLG has a deep connection to the market segment it serves - designing, developing and manufacturing some of the industry's most innovative products.
TLG executes a strategy of acquiring companies that bring specific competences to the group and supports them in their continued evolvement. The organization leverages this combined knowledge and expertise to continuously improve process and product design, to deliver the best possible combination of cutting edge lighting and unsurpassed support. Each brand in the group retains its autonomy and brand identity facilitating an organizational culture that is nimble and able react to its own market needs.
Trusted by architects, landscape architects, interior designers and engineers, TLG products can be found illuminating spaces throughout North America. Specified in commercial, institutional, hospitality and urban environments, TLG's luminaires have been recognized for excellence and innovation by some of the leading authorities in lighting and design. They have received many awards, including several prestigious Red Dot Awards.
Find out more about the Luminaires Group at www.luminairesgroup.com.