Cooper Lighting, a leader at the forefront of transforming the lighting industry and setting an unmatched standard for innovation and reliability, is pleased to announce that its Streetworks Navion roadway product family and the Lumière Eon Bollard have been honored by the Next Generation Luminaires™ (NGL) 2012 Outdoor Solid-State Lighting (SSL) Design Competition. The prestigious competition recognizes and promotes excellence in the design of energy-efficient LED commercial lighting luminaires.

Sponsored by the U.S. Department of Energy (DOE), the Illuminating Engineering Society of North America, and the International Association of Lighting Designers, the competition was launched in 2008 to make it easier for lighting designers and specifiers to find LED lighting products that are worthy of specification. NGL-recognized products have to measure up on many fronts, including quality, performance and suitability, in addition to energy efficiency.

"This is not a beauty contest," said DOE Solid-State Lighting Program Manager Jim Brodrick. "The winners also have to perform well."

This year Cooper Lighting products are among only 37 of 176 products submitted that were recognized as winners for their excellence in 10 categories. The Streetworks Navion luminaires are being recognized in the Street and Roadway Lighting category and the Lumière Eon Bollard in the Walkway Lighting category.

"The NGL competition recognition is among the most sought after and respected in the industry," said Cooper Lighting President Mark Eubanks. "We are honored to have our products recognized for technical innovation and quality by such credible industry sponsors and judges."

Offering a sleek, modern look, the Streetworks Navion luminaires incorporate Cooper Lighting's patented AccuLED Optics™ system. The system allows lumen output and energy consumption to be customized to fulfill the specified lighting needs of the area, eliminating uplight, glare, obtrusive spill light and overlit hot spots, while also saving up to 70 percent in energy costs. Designed around the needs of the Department of Transportation (DOT), utility and municipal customers, the Navion luminaires' superior optical performance and configurability provides efficient, uniform illumination, for long life. Navion luminaires are designed to last over 16 years when used 10 hours daily to further maximize savings and maintenance costs.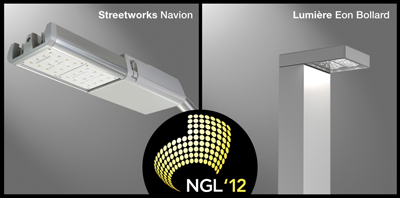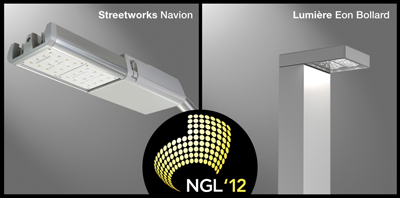 The Lumière Eon Bollard is amazingly thin (3/4-inches) and provides efficient and controlled LED illumination in three distinct beam patterns: forward throw, lateral throw and flood. Available in three warm white LED color temperatures of 2700K, 3000K and 4000K with no sacrifice in lumen output, the LED bollard's outstanding optical performance results in spacings up to 24 feet apart in some configurations. The patented Lumière LumaLevel™ leveling system provides quick installation, easy adjustment, secure mounting and protection from vibration.

To view the winners, including photos, descriptions, judges' comments and testing data, visit www.ngldc.org.

Cooper Lighting continues to make significant investments to empower its customers with the innovations, technology, and resources needed to meet the challenges of the future. Cooper Lighting delivers a wide range of innovative and reliable lighting, LED and controls solutions, all specifically designed to maximize performance, energy efficiency and cost savings. For additional information, visit www.cooperlighting.com.

Cooper Lighting is part of the electrical business of Eaton. Eaton acquired Cooper Industries plc in late 2012. Cooper Lighting provides world-class lighting, LED and controls solutions to commercial, retail, institutional, residential and utility markets. Cooper Lighting is committed to helping businesses and communities leverage the latest technologies to improve energy efficiency, reduce costs and enrich the quality of the environment. Cooper Lighting. Innovation you can rely on™. For additional information, visit www.cooperlighting.com. For information about Eaton, visit www.eaton.com.