Cooper Lighting, an industry leader committed to delivering innovative products and driving transformational technology in the lighting industry, recently provided lighting solutions to the University of Kansas' Studio 804 design team to illuminate Galileo's Pavilion, a student-designed building on the campus of Johnson County Community College (JCCC). Products include Halo LED recessed downlights, Neo-Ray Straight and Narrow suspended luminaires, and Sure-Lites LED Edge-lit exit signs. These products were chosen to provide energy-efficient illumination and to help meet sustainable goals on the ever-expanding college campus.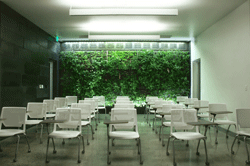 Built to do more than simply house classrooms, Galileo's Pavilion was designed to inspire students, faculty, and the general public both now and throughout the building's future. The building, which features two 'inspired' classrooms as well as a student lounge, serves as a teaching tool for the college's faculty to educate students about sustainable design by transforming the physical campus into a living learning laboratory. Many features, including the choice of materials and lighting, the assembly of the wall, and the design of the courtyard, illustrate the strong commitment JCCC has to sustainable design while also helping connect the building to nature and its surroundings.

"Cooper Lighting assisted us in acquiring energy efficient task specific lights for all our space types," said Stephanie Stone, LEED AP BD+C, University of Kansas Studio 804 graduate. "Its Neo-Ray fixtures with emergency back-up options and modern exit signs allowed us to keep a clean modern aesthetic. The Halo LED downlights, which are featured throughout the space, allowed us to cut energy costs significantly to maintain our overall theme of sustainable, efficient design."

To reinforce the school's commitment to energy efficient, sustainable solutions, the Studio 804 design team chose LED downlights from Cooper Lighting. Halo LED downlights feature excellent color rendering along with the industry's widest selection of color temperatures. The dimmable downlights are ENERGY STAR®-qualified and designed to last with a five year, 50,000-hour warranty. The optical design provides smooth, even illumination and performance equivalent to a traditional downlight.

Also included are Neo-Ray Series 22 DP Straight and Narrow pendants. Featuring slender lines of continuous light, these products provide a uniform glow in any architectural environment. Neo-Ray products include complementary recessed, suspended, surface, and wall-mounted luminaires that are available for both continuous and individual run applications. They feature a fully extruded aluminum housing that allows for a precise in-line appearance and enhanced rigidity while its flush, high-transmission, frosted acrylic lay-in lens adds a clean look and easy maintenance.

The Sure-Lites EU Series Edge-lit Exits feature a crystal clear lens panel providing excellent light distribution for exit visibility. The long-life, energy-efficient LED lamps reduce energy costs and eliminate routine lamp maintenance. The universal features include mounting capability (ceiling, wall or end), exit lens (single and double face), and field-installable chevrons providing the most versatile edge-lit exit on the market today.

"We are honored to once again work with the University of Kansas' Studio 804 team as they continue their great work designing aesthetically pleasing, sustainable buildings," said Mark Eubanks, president of Cooper Lighting. "Both our Halo LED and Neo-Ray solutions, as well as our LED exits are an ideal fit for this particular project providing energy-efficient illumination to Galileo's Pavilion. We are happy to provide continued support to such a great program that places importance on designing facilities that aid in sustainable education for the university and community."

Cooper Lighting has made a significant investment in people, resources and technology to ensure the company provides first-class solutions to its customers' lighting challenges. The company offers a range of indoor and outdoor LED lighting products and controls, all of which are specifically designed to maximize energy and cost savings. For additional information on Cooper's LED product offering, visit www.cooperlighting.com.

About Cooper Lighting
Cooper Lighting, a subsidiary of Cooper Industries plc (NYSE: CBE), is the leading provider of world-class lighting fixtures and controls to commercial, industrial, retail, institutional, residential and utility markets. As lighting technologies have advanced over the years, Cooper Lighting has been at the forefront of the industry in helping businesses and communities leverage the latest technologies to improve efficiency, reduce costs and enrich the quality of the environment. For more information, visit www.cooperlighting.com.

About Studio 804
Studio 804, Inc. is a not-for profit 501(c)(3) corporation whose participants are graduate students of the University of Kansas's School of Architecture, Design and Planning working under the direction of JL Constant Distinguished Professor Dan Rockhill. Producing one building per year, the organization is a comprehensive educational opportunity for graduate students entering the final year of the Master of Architecture program at the University of Kansas. Studio 804 provides students with critical knowledge that prepares them for their future work as young architects in a rapidly changing and challenging profession. The vehicle used for this exhaustive experience is the design and development of an affordable building during which students explore and develop architectural solutions, which promote efficiency, sustainability, and creative use of materials.

About Cooper Industries
Cooper Industries plc (NYSE: CBE) is a global electrical products manufacturer with 2011 revenues of $5.4 billion. Founded in 1833 Cooper's sustained success is attributable to a constant focus on innovation and evolving business practices, while maintaining the highest ethical standards and meeting customer needs. The Company has seven operating divisions with leading market positions and world-class products and brands, including Bussmann electrical and electronic fuses; Crouse-Hinds and CEAG explosion-proof electrical equipment; Halo and Metalux lighting fixtures; and Kyle and McGraw-Edison power systems products. With this broad range of products, Cooper is uniquely positioned for several long-term growth trends including the global infrastructure build-out, the need to improve the reliability and productivity of the electric grid, the demand for higher energy-efficient products and the need for improved electrical safety. In 2011 sixty-two percent of total sales were to customers in the industrial and utility end-markets and forty percent of total sales were to customers outside the United States. Cooper has manufacturing facilities in 23 countries as of 2011. For more information, visit the website at www.cooperindustries.com.