Cooper Lighting, a leader at the forefront of transforming the lighting industry and setting an unmatched standard for innovation and reliability, announces that 14 of its innovative and reliable products – include 13 LED luminaires – have been recognized by the Illuminating Engineering Society (IES) Progress Committee as providing "an advancement in the art and science of lighting." Announced at the 2012 IES Annual Conference held this month, the products are featured in the 2012 IES Progress Report, which presents significant developments and improvements in the lighting industry over the past year.
The accepted products include:
• The IRiS P3LED Directional Series is the first luminaire in the world to be Zhaga-certified. The 3-inch aperture, LED recessed series combines the flexibility of interchangeable optics with the energy savings, long life and sustainability of LED.
• Portfolio's 4-inch LED high output square downlight series provides up to 1800 lumens, comparable to two 26-watt compact fluorescent lamps, while consuming only 36 watts. The series features a diffused optical system that provides superior light control and low aperture brightness while delivering 50+ lumens per watt. A tool-less, flexible disconnect permits easy replacement of the LED engine from above or below the fixture.
• The Lumière Eon Bollard is available in single- or dual-head versions with efficacies up to 78 lumens per watt. The LED optical performance from the patented AccuLED Optics™ results in spacings up to 24 feet apart in some configurations, while still maintaining a continuous minimum 0.5 footcandle light level when mounted at 36-inches using the Type II optics.
• Lumière's Eon Pathway Luminaire offers downlight illumination from a fixed head and uses the same low-profile AccuLED optics. A 16-foot spacing maintains 0.5 footcandles at a 24-inch height, and
13-foot spacings maintain 2.0 footcandles with an 8.8-watt power consumption per fixture.
• Lumière's Eon Wall Mount Luminaires offer wattages of 8.8 and 17.6 watts and efficacies as high as 82 lumens per watt. These dimmable, low-profile luminaires are available with the AccuLED Optics™ system generating lateral throw, forward throw, or flood optics.
• The RSA AX Series LED downlight is the first reported Zhaga compliant accent luminaire that can be used in international applications. Installed from below, it is intended for applications not requiring an enclosed housing and is IP54 rated. It offers aiming angles up to 30 degrees and is available with interchangeable optics providing customers a choice of a 10, 15, 25 or 40 degree beam spread.
• The RSA COMBO LED Wall Wash Luminaire offers an efficacy of 63 lumens per watt with a 38-watt input power. Designed for high ceiling applications, it is available in three beam widths plus an asymmetric distribution, two color temperatures, and is dimmable. The rectangular LED head has lockable aiming from 0 to 60 degrees.
• The Halo ML56 Recessed Downlighting System offers a comprehensive modular system of dimmable LED light modules and interchangeable 5- and 6-inch trims, which include reflectors, baffles, eyeballs, and Halo-exclusive wall-wash trims. The LED source options yield a 600 or 900 lumen output at 80 or 90 CRI and a choice of four color temperatures.
• The Metalux Accord LED luminaire is available in four lumen packages, three color temperatures, and offers three diffuser options. The architectural luminaire family has the highest reported efficacy ranging from 86 to 103 lumens per watt.
• Metalux's ArcLine LED luminaire is a shallow plenum line of 1' x 1', 2' x 2', 2' x 4', and 1' x 4' architectural recessed luminaires with a depth of only 3.25 inches. The line provides seven lumen light levels, three color temperatures, and an efficacy up to 103 lumens per watt, depending on fixture and lumen packages.
• The Halo Commercial product line is the first reported product to receive commercial qualification under the new ENERGY STAR® specification. The family features some of the highest optical efficiencies in commercial recessed downlighting.
• The Fail-Safe HVL LED architectural vandal resistant luminaire is offered with a wide variety of options. The family is available in 8- and 12-inch widths, and lengths from one to eight feet. Several wattage and lumen packages are available in combination with five color temperatures between 2700K and 5000K. An integral occupancy sensor and emergency battery pack are also available.
• The Fail-Safe UCL LED undercabinet luminaire offers a comprehensive package of features. Available in one- to four-foot lengths with two output levels per length, the UCL is available in four color temperatures between 3000K and 5000K. Aluminum or stainless steel construction is offered, with a choice of Pattern 12 acrylic or polycarbonate or linear ribbed acrylic shielding. Antimicrobial finish and integral sensors for automatic control are also available.
• The Sure-Lites PathLinx emergency lighting system powers remote LED path of egress units through normal Class 2 wiring, or through Ethernet cable using on-board RJ-45 jacks, eliminating costly junction boxes and conduit. The low-power, asymmetrical AccuLED Optics™ system produces beams that allow up to 29-foot spacings of the units.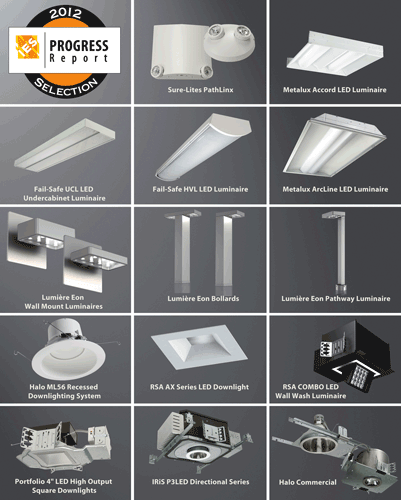 The Progress Report submittals, which include new products, research, publications and design tools, are reviewed by the IES Progress Committee. The committee consists of industry experts from all different aspects of the lighting industry with the mission of keeping in touch with developments in the art and science of lighting throughout the world. The committee prepares a yearly review of achievements for the Society. Each submittal goes through a judging process and is evaluated for its uniqueness, innovativeness, and significance to the lighting industry. Judging is not based on aesthetics, but focuses on and honors technical advancements.
The accepted products were presented at the IES Annual Conference in Minneapolis, Minn., which took place November 11-13. The 2012 IES Progress Report will be featured in the January 2013 issue of the Society's monthly magazine, Lighting Design + Application (LD+A). The Report will also be posted on the IES website and presented by IES Sections throughout the year at section meetings.
Cooper Lighting continues to make significant investments to empower its customers with the innovations, technology, and resources needed to meet the challenges of the future. The company delivers a wide range of innovative and reliable lighting, LED, and controls solutions, all specifically designed to maximize performance, energy efficiency and cost savings. For additional information, visit www.cooperlighting.com.

About Cooper Lighting
Cooper Lighting, a subsidiary of Cooper Industries plc (NYSE: CBE), is a leading provider of world-class lighting, LED and controls solutions to commercial, retail, institutional, residential and utility markets. Cooper Lighting is committed to helping businesses and communities leverage the latest technologies to improve energy efficiency, reduce costs, and enrich the quality of the environment. Cooper Lighting. Innovation you can rely on™. For additional information, visit www.cooperlighting.com.
About Cooper Industries
Cooper Industries plc (NYSE: CBE) is a global electrical products manufacturer with 2011 revenues of $5.4 billion. Founded in 1833 Cooper's sustained success is attributable to a constant focus on innovation and evolving business practices, while maintaining the highest ethical standards and meeting customer needs. The Company has seven operating divisions with leading market positions and world-class products and brands, including Bussmann electrical and electronic fuses; Crouse-Hinds and CEAG explosion-proof electrical equipment; Halo and Metalux lighting fixtures; and Kyle and McGraw-Edison power systems products. With this broad range of products, Cooper is uniquely positioned for several long-term growth trends including the global infrastructure build-out, the need to improve the reliability and productivity of the electric grid, the demand for higher energy-efficient products and the need for improved electrical safety. In 2011 sixty-two percent of total sales were to customers in the industrial and utility end-markets and forty percent of total sales were to customers outside the United States. Cooper has manufacturing facilities in 23 countries as of 2011. For more information, visit the website at www.cooperindustries.com.