Officials at Traverse City Area Public Schools (TCAPS) recognized that Long Lake Elementary School needed a major overhaul. Out of renovation options, the District opted for a complete rebuild of the nearly 50-year-old building in an effort to make the new school a model of energy efficiency and sustainability. To help achieve its overall goal of creating a high-quality, LEED-certified visual learning environment, the school turned to energy-efficient solutions from Cooper Lighting, an industry leader committed to delivering innovative products and driving transformational technology in the lighting industry.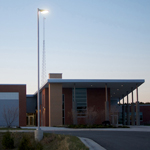 "The project originated from the need to replace an outdated elementary school that was built in the 1950s and out of options for renovation," says John E. Dancer, AIA, vice president, Cornerstone Architects. "The project is part of an overall effort to bring the TCAPS elementary schools into the twenty-first century, and to design efficient 'Learning Centers' to serve TACPS students in today's world."

The building design team's lighting goal for the new $8.3 million, 50,752 square foot facility was to provide a comfortable atmosphere with flexible controls for the interior and sufficient illumination for safety in the exterior areas of the school. After analyzing the project based on cost and lighting calculations, the TCAPS design team selected a wide range of highly efficient interior fluorescent fixtures and exterior LED products from Cooper Lighting.

"To satisfy the interior lighting goals, we designed recessed, pendant and high-bay linear fluorescent fixtures with multiple controls to allow users to determine the level of light that best suited their needs," says Jason VanBrocklin, PE, president, Nealis Engineering, Inc.

The fixtures included Cooper's Portfolio downlights in the media center and corridors, as well as multiple products from the company's Corelite and Metalux lines used in the classrooms, offices, cafeteria, gymnasium and other locations throughout the school.

For each exterior space, the design team specified conventional lamping with an LED alternative in order to compare initial cost during the bidding process. For the entries and exits, compact fluorescent wall packs were specified; for the parking lots and driveway, pole-mounted metal halide fixtures were chosen. The resulting analysis, based on cost and lighting calculations, overwhelmingly favored LED fixtures for all three applications. This guided the design team to choose LED products including Invue Entri LED Wall Mount Luminaires for the entries and exits and McGraw-Edison Ventus Outdoor LED Area Luminaires for the parking lots, main entrance and along the driveway.

"The biggest lesson learned from this project has to be the even distribution of light that the Cooper Lighting LED fixtures produce," says VanBrocklin. "There are no hot spots directly underneath the pole-mounted fixtures, creating a more even distribution of light."

Cooper Lighting's outdoor LED luminaires incorporate patent-pending modular LightBAR™ technology that features the company's patented AccuLED Optics™ system, setting the industry benchmark for reliable photometric performance, scalability and energy efficiency. The system's unique application-specific design allows lumen and energy output to be customized to fulfill the exact needs of the outdoor space—eliminating wasted energy and obtrusive spill light. The technology provides up to 75 percent energy savings over standard H.I.D. systems while also providing a 50,000+ hour rated life, six times longer than the traditional metal halide sources found in most outdoor applications.

"Working with Traverse City Area Public Schools provided us with a great opportunity to showcase the extent to which our efficient solutions can help facilities achieve energy-saving goals," said Mark Eubanks, president, Cooper Lighting. "We are honored to be part of the Long Lake Elementary project that has become a model for energy efficiency and sustainability and we encourage other school districts to follow their example."

Long Lake Elementary School was completed in September 2011 and is currently seeking LEED Silver Certification.

Cooper Lighting has made a significant investment in people, resources and technology to ensure the company provides first-class solutions to its customers' lighting challenges. The Company offers a range of indoor and outdoor LED lighting products and controls, all of which are specifically designed to maximize energy and cost savings. For additional information on Cooper's LED product offering, click here.

About Cooper Lighting
Cooper Lighting, a subsidiary of Cooper Industries plc (NYSE: CBE), is the leading provider of world-class lighting fixtures and controls to commercial, industrial, retail, institutional, residential and utility markets. As lighting technologies have advanced over the years, Cooper Lighting has been at the forefront of the industry in helping businesses and communities leverage the latest technologies to improve efficiency, reduce costs and enrich the quality of the environment. For more information, visit www.cooperlighting.com.

About Cooper Industries
Cooper Industries plc (NYSE: CBE) is a global electrical products manufacturer with 2011 revenues of $5.4 billion. Founded in 1833 Cooper's sustained success is attributable to a constant focus on innovation and evolving business practices, while maintaining the highest ethical standards and meeting customer needs. The Company has seven operating divisions with leading market positions and world-class products and brands, including Bussmann electrical and electronic fuses; Crouse-Hinds and CEAG explosion-proof electrical equipment; Halo and Metalux lighting fixtures; and Kyle and McGraw-Edison power systems products. With this broad range of products, Cooper is uniquely positioned for several long-term growth trends including the global infrastructure build-out, the need to improve the reliability and productivity of the electric grid, the demand for higher energy-efficient products and the need for improved electrical safety. In 2011 sixty-two percent of total sales were to customers in the industrial and utility end-markets and forty percent of total sales were to customers outside the United States. Cooper has manufacturing facilities in 23 countries as of 2011. For more information, visit the website at www.cooperindustries.com.