Cooper Lighting's Halo compact fluorescent dimmable downlight family was selected as a winner in the sixth annual Lighting For Tomorrow 2008 competition in the new compact fluorescent indoor recessed downlight category. IRiS Squares (4" square aperture recessed luminaires) were awarded an honorable mention in the same category. The competition, which recognized excellence in the design of energy-efficient residential lighting fixtures, is jointly sponsored and organized by the American Lighting Association (ALA), the Consortium for Energy Efficiency (CEE), and the U.S. Department of Energy (DOE), represented by Pacific Northwest National Laboratory (PNNL).
The winners were announced during an awards ceremony at the ALA Annual Conference on Tuesday, September 16 in Washington D.C.
The Halo compact fluorescent recessed downlights feature high light output with a full range of dimming capabilities down to 15%. The family of 5" and 6" aperture downlights includes two new Slope Ceiling housings (dimmable and non-dimmable), which provide pleasing illumination by aiming the lamp straight down in alignment with ceiling pitch. The downlights are Air-Tite™ and IC rated (for use in direct contact with insulation). The Air-Tite™ feature saves energy by preventing airflow from a conditioned room into attic spaces. The family accepts a wide range of trims guaranteeing a solution for any lighting need.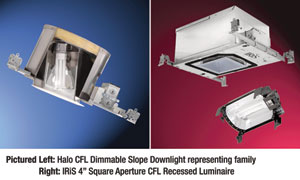 The meticulously designed IRiS Squares compact fluorescent downlights feature a two-stage optical system producing smooth distribution with excellent light control and dimming down to 5%. Innovative features include an adjustable collar that can be rotated ±7.5° and raised/lowered by 1⁄2" through the aperture to provide precise alignment. Optical elements (trims) can produce various light distributions including open downlight, wall wash and lens/shower applications. The series seamlessly integrates with contemporary architecture.
The competition is designed to stimulate the market for attractive, energy-efficient residential lighting fixtures that use a fraction of the electricity of standard incandescent fixtures. By encouraging new designs and technologies, Lighting for Tomorrow aims to increase market acceptance and awareness of the growing opportunities in energy-efficient lighting. The winning products will be promoted throughout the ensuing year in full color publications (i.e., the Lighting for Tomorrow Yearbook for ENERGY STAR qualified CFL-based fixtures), the Lighting for Tomorrow website, articles and press releases, and a traveling exhibit.
For additional information, visit www.lightingfortomorrow.com.

About Cooper Lighting
Cooper Lighting, a subsidiary of Cooper Industries (NYSE: CBE), is the leading provider of innovative, high quality lighting fixtures and related products to worldwide commercial, industrial, retail, residential and utility markets. For more information, visit www.cooperlighting.com.