Cooper Lighting, a leader at the forefront of transforming the lighting industry and setting an unmatched standard for innovation and reliability, is pleased to announce that three of its LED architectural products have been recognized for ingenuity in Architectural Products Product Innovation Awards (PIA) competition. For the second consecutive year, Cooper Lighting has the most product awards in the lighting/electrical category. This year's LED products include the IRiS P3LED Directional Series, io Lili Gen II Recessed Indirect Luminaires, and the Lumière Eon Bollards. Cooper Lighting has received a total of nine company awards since the competition's inception last year.

The Architectural Products Product Innovation Awards (PIA) determine and honor innovation in the development and refinement of buildings-related products in 14 major product categories. The second annual competition was judged by a group of 50 independent experts in their field.

"We are once again honored that our LED products are being recognized for innovation by top industry professionals," said Cooper Lighting President Mark Eubanks. "These awards validate our commitment to providing industry-leading solutions, which specifiers and customers can rely on."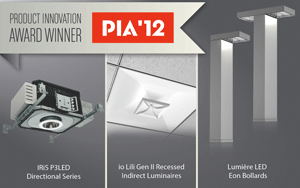 Developed for demanding commercial and residential applications, the IRiS P3LED 3-inch aperture LED recessed series combines the flexibility of interchangeable optics with energy savings, long life, and the sustainability of LED. The P3LED luminaire's unique design allows the light distribution to be modified during construction, or even years later, by changing out the optical elements (trims), which are available in downlight, accent, wall wash, and lens solutions. The series is currently available in 3000K correlated color temperature (CCT), 85 color rendering index (CRI) typical, and is designed to last with a five year, 50,000- hour warranty.

Designed to replace fluorescent 2' x 2' alternatives for general lighting applications, the io Lili Gen II family consists of two new patent pending light engines. These light engines combine state-of-the-art styling, superior thermal management, and the optical control required to indirectly illuminate a beautifully contoured reflector. Multiple design awards have validated that the Lili Gen II Series is a style statement that delivers code required illumination levels without the excessive brightness seen with other LED troffers. Lili is perfect for healthcare environments where discomfort glare is unwanted by patients but a 50,000-hour sustainable lighting solution is needed. Lili is also perfect for offices and conference rooms where energy-efficient lighting solutions are desired but reflections on computer screens and handheld electronic devices are not.

The sleek family of Lumière LED Eon Bollards includes the single head Eon 303-B1 and the 303-B2 with two opposing heads. These LED bollards' outstanding optical performance originates from the patented AccuLED Optics™ and results in spacings up to 24 feet apart in some configurations. The patented Lumière LumaLevel™ leveling system provides quick installation, easy adjustment, secure mounting, and protection from vibration.

Cooper Lighting continues to make significant investments to empower its customers with the innovations, technology, and resources needed to meet the challenges of the future. The company delivers a wide range of innovative and reliable lighting, LED, and controls solutions, all specifically designed to maximize performance, energy efficiency and cost savings. For additional information, visit www.cooperlighting.com.

About Cooper Lighting
Cooper Lighting, a subsidiary of Cooper Industries plc (NYSE: CBE), is a leading provider of world-class lighting, LED and controls solutions to commercial, retail, institutional, residential and utility markets. Cooper Lighting is committed to helping businesses and communities leverage the latest technologies to improve energy efficiency, reduce costs, and enrich the quality of the environment. Cooper Lighting. Innovation you can rely on™. For additional information, visit www.cooperlighting.com.

About Cooper Industries
Cooper Industries plc (NYSE: CBE) is a global electrical products manufacturer with 2011 revenues of $5.4 billion. Founded in 1833, Cooper's sustained success is attributable to a constant focus on innovation and evolving business practices, while maintaining the highest ethical standards and meeting customer needs. The Company has seven operating divisions with leading market positions and world-class products and brands, including Bussmann electrical and electronic fuses; Crouse-Hinds and CEAG explosion-proof electrical equipment; Halo and Metalux lighting fixtures; and Kyle and McGraw-Edison power systems products. With this broad range of products, Cooper is uniquely positioned for several long-term growth trends including the global infrastructure build-out, the need to improve the reliability and productivity of the electric grid, the demand for higher energy-efficient products and the need for improved electrical safety. In 2011 sixty-two percent of total sales were to customers in the industrial and utility end-markets and forty percent of total sales were to customers outside the United States. Cooper has manufacturing facilities in 23 countries as of 2011. For more information, visit the website at www.cooperindustries.com.