Cooper Lighting has introduced the Fail-Safe Changing Views Visual Therapy Luminaires featuring world-class photographic images from Joey Fischer, nature photographer and Smithsonian Award Recipient. Designed to bring warmth, ambience, and positive energy into healthcare environments, the series is available in multiple energy-efficient lamp options (T5, T8 and LED) and can be used in single or multiple units to create small or large scale murals.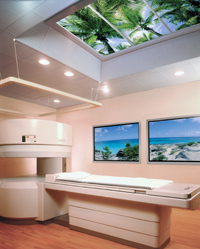 The Fail-Safe Changing Views Therapy Luminaires are available in three different models including recessed fluorescent (standard), sealed, recessed fluorescent (clean room rated) and LED recessed and wall models. All models are available in a variety of mural configurations ranging from 2' x 2' to 4' x 12' to create life-like murals for exam and treatment rooms, patient rooms, labor and delivery rooms, Magnetic Resonance Imaging (MRI) areas, public spaces and corridors. Studies have found that incorporating nature imagery within a hospital can reduce stress and anxiety for patients as well as staff. Ceiling and wall luminaires create focal points for patients to view before and during treatment, assisting them in getting through uncomfortable or painful procedures.
The recessed fluorescent luminaire is offered in three or four T8 lamping, and the sealed, recessed fluorescent luminaire is offered with three or four T8 or T5 lamping options. The sealed, recessed fluorescent, clean room rated luminaire features an enclosed and gasketed housing to protect against airborne bacteria and is available in antimicrobial finish options. A one-piece outside doorframe adds additional fixture protection. The LED recessed and wall mount luminaires feature a unique edge-lit design with an ultra thin profile of less than 1". Offering low maintenance with up to 100,000 hours of LED lamp life, a non-ferrous version is available for MRI areas. All models feature a high-quality, acrylic photographic lens.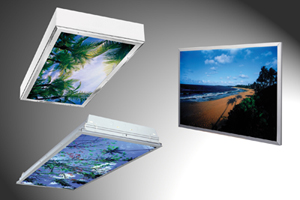 The Changing Views Series incorporates original imagery from Smithsonian Award winning photographer Joey Fischer, who has created carefully selected nature images for healthcare applications for over 30 years. His work can be found in 4800 hospitals worldwide. These photographic lenses are designed specifically for use in the Changing Views luminaires and are categorized by various subjects including tropicals, gardens, and the seasons.
Although ideal in healthcare environments, the series can also be used in hospitality and retail settings.
For additional information, visit www.cooperlighting.com or email [email protected].