Cooper Lighting has introduced the McGraw-Edison Ventus, an outdoor LED area luminaire offering unmatched optical performance and versatility with superior light quality. Incorporating Cooper Lighting's patent pending modular LightBAR™ technology and patented AccuLED Optics™ system, the LED luminaires' unique application-specific design allows lumen and energy output to be customized to fulfill the exact needs of the outdoor space—eliminating wasted energy, obtrusive spill light and over-lighting of spaces. In both performance and construction, the Ventus LED Area Luminaire is optimized to deliver uniform and energy-conscious illumination to parking lots, building areas, roadways, and security lighting application, and can provide up to 75% in energy savings over traditional High Intensity Discharge (H.I.D.) outdoor sources.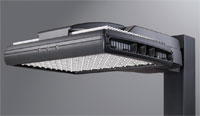 Cooper Lighting's patented AccuLED Optics™ system provides shaped distributions and scalability to meet exact application requirements. The Ventus luminaire is offered in two to twelve IP66 rated LightBAR™ system configurations with a choice of 15 unique optical distributions including a family of proprietary Spill Light Eliminator optics. The Spill Light Eliminator optics drastically reduce spill light from behind the luminaire and redirect light to the task surface resulting in increased task efficacy. With efficiencies as high as 95%, AccuLED Optics™ technology is up to 30% more efficient than traditional H.I.D. optical systems. Producing even, uniform illumination, the Ventus luminaire provides a benchmark warm white light of 4000K correlated color temperature (CCT) with no sacrifice in lumen output or lighting performance. With typical LED outdoor area products standardized on a cold blue color temperature (6000-6500K CCT), the Ventus luminaire provides specifiers and end-users a preferred color choice similar to a ceramic metal halide lamp.
Cooper Lighting's LightBAR™ technology provides energy savings between 30-75% over standard H.I.D. systems while providing 50,000+ hour rated life, which is six times longer than traditional metal halide sources found in most outdoor commercial applications. Bi-level switching options allow further energy savings while still maintaining lighting uniformity levels.
Featuring rugged, die-cast and extruded aluminum construction, the Ventus luminaire's unique design allows for passive cooling and natural cleaning of the extruded heat sink ensuring reliable operation in -30°C to 40°C ambient environments. The luminaire is Dark Sky Compliant solving the public concern of both light trespass and sky glow/light pollution.
The McGraw-Edison Ventus LED Area Luminaire is backed by a five-year warranty.
For additional information, visit www.cooperlighting.com/led or email [email protected].
About Cooper Lighting
Cooper Lighting, a subsidiary of Cooper Industries plc (NYSE: CBE), is the leading provider of innovative, high quality interior and exterior lighting fixtures and related products to worldwide commercial, industrial, retail, institutional, residential and utility markets. As lighting technologies have advanced over the years, Cooper Lighting has been at the forefront of the industry in helping businesses and communities leverage the latest technologies to improve efficiency, reduce costs and enrich the quality of the environment. For more information, visit www.cooperlighting.com.
About Cooper Industries
Cooper Industries plc (NYSE: CBE) is a global manufacturer with 2009 revenues of $5.1 billion. Founded in 1833, Cooper's sustained level of success is attributable to a constant focus on innovation, evolving business practices while maintaining the highest ethical standards, and meeting customer needs. The Company has seven operating divisions with leading market share positions and world-class products and brands including: Bussmann electrical and electronic fuses; Crouse-Hinds and CEAG explosion-proof electrical equipment; Halo and Metalux lighting fixtures; and Kyle and McGraw-Edison power systems products. With this broad range of products, Cooper is uniquely positioned for several long-term growth trends including the global infrastructure build-out, the need to improve the reliability and productivity of the electric grid, the demand for higher energy-efficient products and the need for improved electrical safety. In 2009, sixty-one percent of total sales were to customers in the industrial and utility end-markets and thirty-nine percent of total sales were to customers outside the United States. Cooper has manufacturing facilities in 23 countries as of 2009. For more information, visit the website at www.cooperindustries.com.