Cooper Lighting has added a new line of ENERGY STAR® 4-inch compact fluorescent (CFL) downlights to its Halo recessed downlight family. A popular choice for both residential and light commercial spaces, the small aperture energy-efficient line includes both 13-watt and 18-watt models available in both new construction and remodel housings. A design complement to the 5-inch and larger 6-inch recessed CFL downlights, the 4-inch aperture size is commonly used for accent, task and perimeter area lighting.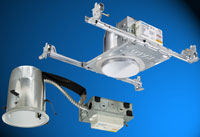 The 4-inch CFL downlight housings are designed for insulated ceilings (IC-rated) and can be in direct contact with ceiling insulation. These AIR-TITE™ housings prevent airflow between attic and living areas and save on both heating and air conditioning costs. The electronic compact fluorescent ballast meets stringent ENERGY STAR® requirements including FCC Title 47 CFR part 18 for consumer equipment.
Numerous contractor-friendly installation features include the GOT NAIL! ™ Bar Hangers that are designed with a pre-installed nail that easily installs in regular lumber, engineered lumber and laminated beams. Halo's popular Pass-N-Thru™ feature allows bar hangers to be shortened-tool-less-without removing from the plaster frame. Additional features include a Safety and Guidance System and Automatic Leveling Flange
An array of trims choices includes baffles, reflectors, decorative trims and new lensed shower and metal baffle trims. Multiple finishes include Halo's new high quality designer metallic finishes of Satin Nickel, Antique Copper and Tuscan Bronze.
The thermally protected, fused, 120V electronic ballast provides full light output and flicker-free and noise-free starting and operation.
In addition to being ENERGY STAR® qualified and certified AIR-TITE™ under ASTM-E283 in meeting the Washington State Energy Code and the New York State Energy Conservation Construction Code; the downlights are compliant with the 2008 California Building Energy Efficiency Standards (Title 24), effective January 1, 2010; and the 2009 International Energy Conservation Code® (IECC) high efficacy provisions.
For additional information, visit www.cooperlighting.com or email [email protected].