Cooper Lighting has introduced the Lumark AVID, a new series of decorative high-bay luminaires featuring an aesthetically pleasing architectural design with a variety of optical choices and lamping options. Available in four scaled sizes, the series can offer one consistent look throughout an application from the general lighting of large open spaces to decorative accents over counters and retail displays.
The AVID offers a variety of optical choices including borosilicate glass lens, prismatic acrylic lens, high performance aluminum reflector and an optional shroud. This complete optical offering delivers high efficiencies up to 96%.
The large range of lamping options including 20-400 watt metal halide, single and multi-lamp compact fluorescent, quartz halogen, and incandescent offers a high performance solution for wide array of applications including offices, automotive dealerships, airports, retail setting and corridors.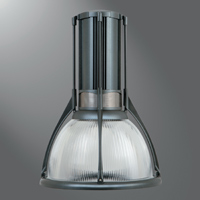 AVID can be pendant mounted or suspended by stainless steel cables. Pendant mounting design features an internal locking screw assuring security. Stainless steel suspension mounting has two suspension cables with quick adjustment enabling the luminaire to be quickly leveled. Integrated into the mounting is an easy access compartment to quickly wire incoming supply leads.
Standard colors include white, grey, black, graphite metallic, and dark platinum. RAL or custom color matches also are available.
For additional information, visit www.cooperlighting.com or email [email protected].

About Cooper Lighting
Cooper Lighting, a subsidiary of Cooper Industries (NYSE: CBE), is the leading provider of innovative, high quality lighting fixtures and related products to worldwide commercial, industrial, residential and utility markets. For more information, visit www.cooperlighting.com.

About Cooper Industries
Cooper Industries, Ltd. (NYSE: CBE) is a global manufacturer with 2007 revenues of $5.9 billion, approximately 87% of which are from electrical products. Founded in 1833, Cooper's sustained level of success is attributable to a constant focus on innovation, evolving business practices while maintaining the highest ethical standards, and meeting customer needs. The Company has eight operating divisions with leading market share positions and world-class products and brands. Cooper, which has more than 31,500 employees and manufacturing facilities in 23 countries as of 2007, is incorporated in Bermuda with administrative headquarters in Houston, TX. For more information, visit the website at www.cooperindustries.com.