At its industry-leading LED Innovation Center has internally developed and recently launched the ALM 1.0, a patent pending linear LED platform designed to integrate into 32 luminaires within the company's historical linear fluorescent brands. The proprietary low-power, low-brightness LED module assembly offers exceptional optical performance, equivalent to or greater than fluorescent systems, with the enhanced benefits of LED lighting, including energy savings, an extended system life, a reduced carbon footprint and 15 to 20 percent reduced power density (watts consumed per square foot). The new extensive interior product offering is represented across Cooper Lighting's Ametrix, Corelite, Fail-Safe, Metalux and Neo-Ray brands and provides application solutions for recessed, surface or direct-indirect general illumination and wall wash solutions.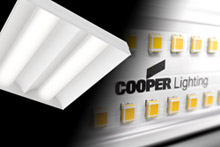 The unique synthesis of technology and design in the ALM 1.0 provides soft, crisp white light while delivering excellent light diffusion characteristics. The system, available in three color temperatures (3000K, 3500K and 4000K), features excellent color rendering (85 CRI) and provides the general characteristics of a traditional fluorescent light source without unsightly socket shadows. The low-powered system design provides better luminous efficacy and a preferred low brightness for enhanced visual comfort. The product's cool operation eliminates the need for bulky and obtrusive heat sinks, ensuring an easy fit into new or existing fixtures, while the low-profile design adapts into the smallest luminaires.

The ALM 1.0 features a dense array of low-powered (.25 watt) LEDs, which deliver a system life of 50,000 hours and creates the ideal conditions for delivering high lumens per watt (lm/W). The constant DC current built into the ALM 1.0 platform technology drives each LED to less than half of its maximum rated wattage, enabling up to 88 lm/W in some products, which meets or exceeds most fluorescent lumen packages.

The efficiency and performance improvement roadmaps of LED technology guarantee the availability of higher lm/W packages in the future. To address future retrofits of higher performing packages, Cooper Lighting has designed critical features into the linear LED module design to allow for simple physical replacement of the module. This future-proof module design includes plug-and-play connectors for quick and simple wiring, and serialized LED modules to ensure color matching for replacements.

Cooper Lighting offers a range of indoor, outdoor and specialty LED lighting products and corresponding accessories, all of which are specifically designed to maximize energy and cost savings. For additional information, visit www.cooperlighting.com/led.

About Cooper Lighting
Cooper Lighting, a subsidiary of Cooper Industries plc (NYSE: CBE), is the leading provider of innovative, high quality interior and exterior lighting fixtures and related products to worldwide commercial, industrial, retail, institutional, residential and utility markets. As lighting technologies have advanced over the years, Cooper Lighting has been at the forefront of the industry in helping businesses and communities leverage the latest technologies to improve efficiency, reduce costs and enrich the quality of the environment. For more information, visit www.cooperlighting.com.

About Cooper Lighting's LED Innovation Center
Cooper Lighting's 60,000-square-foot Innovation Center opened its doors in 2009. The multi-million dollar facility is home to the research, development, design, validation, and manufacturing of proprietary LED and other advanced lighting technologies. Teams of highly skilled Mechanical, Electrical, Thermal, Optical, and Reliability Engineers work hand-in-hand with Industrial Designers, Lab Technicians, and Manufacturing personnel to accelerate the development and commercialization of relevant industry-leading LED solutions.