Cooper Lighting, an industry leader committed to delivering innovative products and driving transformational technology in the lighting industry, announced its new Halo H4 LED 4-inch Adjustable Gimbal Series has been recognized as a winner in the prestigious ninth annual Lighting for Tomorrow competition. The awards, which recognize the best-designed, energy-efficient solid-state lighting (SSL) products in the residential market, were announced at the American Lighting Association (ALA) Annual Conference in Palm Beach, Florida on September 13.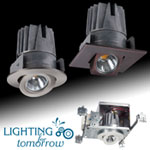 The Lighting for Tomorrow competition continues to challenge manufacturers to improve their design of SSL fixtures to meet consumers' expectations. The 2011 judging panel reviewed a total of 52 products including 39 SSL luminaires at Underwriters Laboratories (UL) University in Research Triangle Park, N.C. Of the 22 companies that submitted SSL fixtures, eight received recognition including six winners and two honorable mentions.
"We are honored that our popular Halo products continue to be recognized for their energy-efficient performance qualities by such a prestigious awards program," said Mark Eubanks, president, Cooper Lighting. "We continue to strive to develop products that meet the lighting needs of both our residential and commercial customers while also providing for their aesthetics needs."
The Halo H4 LED 4-inch Adjustable Gimbals family, which consists of a combined gimbal-styled recessed lighting trim and LED light engine, was recognized as a winner and features both round and square trims choices with 35-degree adjustable tilt and interchangeable reflectors with beam distributions of 25, 35 and 50 degrees. The ENERGY-STAR® qualified series is available in three finishes (White, Satin Nickel and Tuscan Bronze) and offered in four color temperatures (2700K, 3000K, 3500K, and 4000K) to satisfy multiple needs.
The competition is designed to stimulate the market for attractive, energy-efficient residential lighting fixtures that use a fraction of the electricity of standard incandescent fixtures. By encouraging new designs and technologies, Lighting for Tomorrow aims to increase market acceptance and awareness of the growing opportunities in energy-efficient lighting. Lighting for Tomorrow is jointly sponsored and organized by the American Lighting Association (ALA) and the Consortium for Energy Efficiency (CEE).

Award winners will be showcased in an awards brochure and on the Lighting for Tomorrow website, as well as in articles and trade show exhibits throughout the coming year. For complete details on the competition, visit www.lightingfortomorrow.com.

Cooper Lighting has made a significant investment in people, resources and technology to ensure the company provides first-class solutions to its customers' lighting challenges. The Company offers a range of indoor and outdoor LED lighting products and controls, all of which are specifically designed to maximize energy and cost savings. For additional information on Cooper's LED product offering, click here.

About Cooper Lighting
Cooper Lighting, a subsidiary of Cooper Industries plc (NYSE: CBE), is the leading provider of world-class lighting fixtures and controls to commercial, industrial, retail, institutional, residential and utility markets. As lighting technologies have advanced over the years, Cooper Lighting has been at the forefront of the industry in helping businesses and communities leverage the latest technologies to improve efficiency, reduce costs and enrich the quality of the environment. For more information, visit www.cooperlighting.com.