Cooper Lighting, an industry leader committed to delivering innovative products and driving transformational technology in the lighting industry, has introduced the Lumière Eon line of architectural indoor and outdoor LED luminaires. Featuring a sleek, low profile design and unmatched optical performance by way of Cooper Lighting's patented AccuLED Optics™, the Eon family includes wall- and ceiling-mount fixtures, sign lights and bollards. The versatile line satisfies solutions for general, accent, wall wash, pathway, sign lighting and wall-mounted security applications, providing up to 30 percent in energy savings over traditional lamp sources.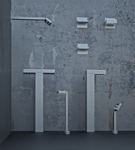 The Lumière Eon LED luminaires are amazingly thin (3/4-inches) and provide efficient and controlled LED illumination in three distinct beam patterns: forward throw, lateral throw and flood. Available in three warm white LED color temperatures of 2700K, 3000K and 4000K with no sacrifice in lumen output, the family features optical efficiencies as high as 95 percent. The Lumière Eon 303-W1 and 303-W2 LED wall luminaires easily mount directly to any wall surface over a standard 4-inch junction box. The Eon 303-W1 can be mounted either as an uplight or downlight and the Eon 303-W2 provides both uplight and downlight solutions simultaneously. The fixtures also feature a unique edge-lit lens option to accentuate the fixture's aesthetics and style.

The family of LED bollards includes the single head Eon 303-B1 and the 303-B2 with two opposing heads. The LED bollard's outstanding optical performance from the patented AccuLED Optics™ results in spacings up to 24 feet apart in some configurations while still maintaining a continuous minimum 0.5 foot candle light level when mounted at 36-inches using the Type II optics. The patented Lumière LumaLevelTM leveling system provides quick installation, easy adjustment, secure mounting and protection from vibration.

Offering the same thin profile look, the Eon 303-A1 accent luminaire features 360-degree rotation and 180-degrees vertical aiming, while the 303-P1 pathway luminaire offers downlight illumination from a fixed head. Both ground-mount directly to a supplied, in-ground junction box.

The Lumière Eon 303-S1 sign light and ceiling-mount luminaire attaches to a wall or a ceiling-mounted straight arm over a standard 4-inch junction box and delivers full vertical adjustment (180 degrees) for easy aiming. An optional 24-inch or 36-inch straight arm is available in lieu of the standard 12-inch arm. The fixture also features the unique edge-lit lens option and can be used to accent, wall wash or as an indirect luminaire for general area lighting.

High quality construction materials include a choice of aluminum, bronze, brass, copper and stainless steel. The aluminum can be brushed or powder coated in a wide variety of colors.

All luminaires are dimmable, may be used indoors or outdoors and carry an IP66 rating. The bollards, pathway and wall luminaires are also ADA complaint. For all luminaires dimming is achieved with a standard ELV reverse phase dimming driver. Some models also offer an optional 0-10V dimming driver. All models come standard with a universal input LED driver (120-277V, 50/60 Hz).

Cooper Lighting has made a significant investment in people, resources and technology to ensure the company provides first-class solutions to its customers' lighting challenges. The Company offers a range of indoor and outdoor LED lighting products and controls, all of which are specifically designed to maximize energy and cost savings. For additional information on Cooper's LED product offering, visit www.cooperlighting.com.

About Cooper Lighting
Cooper Lighting, a subsidiary of Cooper Industries plc (NYSE: CBE), is the leading provider of world-class lighting fixtures and controls to commercial, industrial, retail, institutional, residential and utility markets. As lighting technologies have advanced over the years, Cooper Lighting has been at the forefront of the industry in helping businesses and communities leverage the latest technologies to improve efficiency, reduce costs and enrich the quality of the environment. For more information, visit www.cooperlighting.com.

About Cooper Industries
Cooper Industries plc (NYSE: CBE) is a global electrical products manufacturer with 2011 revenues of $5.4 billion. Founded in 1833, Cooper's sustained success is attributable to a constant focus on innovation and evolving business practices, while maintaining the highest ethical standards and meeting customer needs. The Company has seven operating divisions with leading market positions and world-class products and brands, including Bussmann electrical and electronic fuses; Crouse-Hinds and CEAG explosion-proof electrical equipment; Halo and Metalux lighting fixtures; and Kyle and McGraw-Edison power systems products. With this broad range of products, Cooper is uniquely positioned for several long-term growth trends including the global infrastructure build-out, the need to improve the reliability and productivity of the electric grid, the demand for higher energy-efficient products and the need for improved electrical safety. In 2011 sixty-two percent of total sales were to customers in the industrial and utility end-markets and forty percent of total sales were to customers outside the United States. Cooper has manufacturing facilities in 23 countries as of 2011. For more information, visit the website at www.cooperindustries.com.