Cooper Lighting, a division of Cooper Industries plc (NYSE: CBE), has introduced the Corelite Class R3, the latest addition to the Corelite Class R line of energy-efficient shallow recessed fixtures. Designed with both aesthetics and a comprehensive energy-efficient lamp offering, the Class R3 provides low watts per square foot to satisfy the most stringent energy requirements while still offering superior brightness management. The Class R Series' dual function lens design provides IES recommended light levels to work surfaces while also delivering vertical brightness to eliminate the cave effect created by parabolics.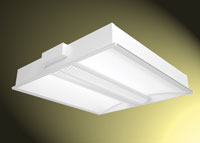 The ultimate complement to the R1 (1-3/4" Depth) and R2 (2-7/8" Depth), the Class R3 features a fully luminous attractive housing that accommodates T5/T5HO (1, 2 and 3 lamps), T8 (1, 2 and 3 lamps) and compact fluorescent (1and 2 lamps) lamping options and maintains the series' dedication to shallow plenum applications with a minimal 3-3/4" housing depth. The low depth aspect of the housing offers greater flexibility in constrained plenum applications typically found in health care and remodel situations. Available in 2' x 2' or 2' x 4' housing sizes, the Class R3 carries the same contours as the R1 and R2, yet offers much greater flexibility with regards to lamp, ballast, and battery pack options including the 3-lamp T5, 3-lamp T8 and 2-lamp compact fluorescent.
Class R3 is available with five unique lens/shielding options including the Micro Baffle, Clear Micro Prismatic, Rectangular or Round Perf, and Frosted Prismatic Lens. The fixture also supports energy-saving ballasts and controls.
The combination of the efficient optical reflector design and luminous backlit side panels produce the perfect amount of work surface illumination, as well as a subtle vertical lighting component that eliminates the cave effect.
For additional information, visit www.cooperlighting.com or www.corelite.com or email [email protected].