Power management company Eaton today announced the winners of the 37th Annual SOURCE Awards national lighting design competition held by its Cooper Lighting Division. The winners were recognized at LIGHTFAIR® International 2014 held on June 2, in Las Vegas. Five professional awards and five student awards were presented.
The annual competition, which began in 1977, focuses on furthering the understanding, knowledge and function of lighting as a primary element in design and requires the predominant use of lighting and controls products from Eaton's Cooper Lighting business. Entries are judged on the blending of aesthetics, creative achievement, technical performance and the degree in which the lighting meets the project constraints and design concept goals.
"We congratulate the talented professional and student winners of this year's SOURCE Awards competition," said Mark Eubanks, president, Eaton's Cooper Lighting Division. "We are always impressed with the outstanding quality of work and this year is no exception with the creativity, sustainability, as well as the beautiful integration of lighting and controls products into these outstanding architectural projects."
The 2014 winners include:
Professional Residential Category
• Winner: Robert Singer and Associates, Inc., Basalt, Colorado, and designers Robert Singer, Kim Quint and Jason Diaz for the lighting design of the Morningstar Residence, Aspen, Colorado.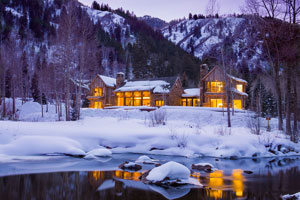 Professional Commercial Category
• Winner: Ross De Alessi Lighting Design, Seattle, Washington, and the design team of Ross De Alessi, Norm Spencer and Neil Reeder for the lighting of The Gallery at the Historic Museum of Natural History Restoration Hardware store in Boston, Massachusetts.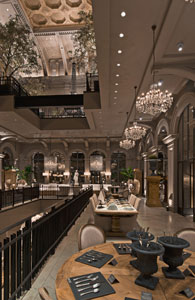 • Honorable Mention: GWA Lighting, Narberth, Pennsylvania, and the team of Mark Harris, Anne Flaherty and Ryan Linton for the Omni Convention Center and Country Music Hall of Fame Expansion project in Nashville, Tennessee.
• Awards of Recognition: Tec Studio Inc., Columbus, Ohio, and designer Ardra Paige Zinkon for the lighting design of the Cuyahoga County Public Library – Garfield Heights Branch, Garfield Heights, Ohio; and Horton Lees Brogden Lighting Design, Inc., Culver City, California, and designers E. Teal Brogden, HT Tina Aghassian, Clifton Manahan, Jae Yong Suk and Alexis Schlemer for the curbside lighting enhancements project at the LAX Tom Bradley International Airport in Los Angeles, California.
Student Category
• Winner: Hazel Chang from Appalachian State University, Boone, North Carolina, for her conceptual lighting design restaurant project, titled Light the Carnivore Restaurant on Fire. Chang was under the direction of Jeanne Mercer-Ballard, associate professor of the Interior Design Program at Appalachian Sate University.
• Honorable Mentions: Rachel Harris and Courtenay Wright from the University of Cincinnati, Cincinnati, Ohio, for their historical preservation project of the First German Reform Church, titled Rock Hallelujah; Juan Acosta and Michael Hawkins from Parsons The New School for Design, New York, New York, won for their conceptual lighting design project of the Light and Dark Institute's corporate building, titled The Light and Dark Institute; and Jiyoung Bae, also from Parsons The New School for Design, was awarded for her commercial building that functions as a light lab, exhibition and educational space, titled Reaching for the Sky. Harris and Wright were under the direction of Brian Davies, associate professor at the University of Cincinnati's College of Design, Architecture, Art and Planning (DAAP), while Acosta, Hawkins and Bae were under the direction of Derek Porter, associate professor and director of the Master of Fine Arts (MFA) Lighting Design program at Parsons.
• Award of Recognition: Kayla Johnson from University of Florida, Gainesville, Florida, won for her conceptual lighting design of her Ideaology corporate office. Kayla was under the direction of Dr. Nam-Kyu Park, associate professor in the Department of Interior Design at the University of Florida's College of Design, Construction and Planning.
Professional winners Robert Singer and Associates, Inc. and Ross De Alessi Lighting Design each received a $2,000 monetary award. Student winner Chang received $1,500 and each of the other Honorable Mention students was awarded $500. All winners were presented with a crystal trophy and offered an invitation to attend a complimentary class at the SOURCE, the Lighting business' state-of-the-art education center located at the company's headquarters in Peachtree City, Georgia. The students' instructors are also invited to attend a class.
For additional information on the winners or to learn about this year's 38th Annual SOURCE Awards competition, please visit www.cooperlighting.com/sourceawards.
Eaton's Cooper Lighting Division delivers a range of innovative and reliable indoor and outdoor lighting solutions, as well as controls products specifically designed to maximize performance, energy efficiency and cost savings. The Lighting business serves customers in the commercial, industrial, retail, institutional, residential, utility and other markets.
Eaton's Electrical Sector is a global leader with expertise in power distribution and circuit protection; backup power protection; control and automation; lighting and security; structural solutions and wiring devices; solutions for harsh and hazardous environments; and engineering services. Eaton is positioned through its global solutions to answer today's most critical electrical power management challenges.
Eaton is a power management company with 2013 sales of $22.0 billion. Eaton provides energy-efficient solutions that help our customers effectively manage electrical, hydraulic and mechanical power more efficiently, safely and sustainably. Eaton has approximately 101,000 employees and sells products to customers in more than 175 countries. For more information, visit www.eaton.com.