Cooper Bussmann and Cooper Lighting, divisions of Cooper Industries have been selected as Gold and Silver Medal winners in Consulting-Specifying Engineer magazine's 2010 Product of the Year competition.
The annual reader-choice Product of the Year awards were created to provide information on the top new products in the field, with readers choosing Gold, Silver and Bronze Medal winners in ten categories.
The Cooper Bussmann® Solar Combiner Box was awarded the Gold Medal in the Electrical Distribution category, while Cooper Lighting's Halo 900 LED Downlight Series received the Silver Medal in the Lighting and Lighting Controls category.
With a variety of fusible configurations up to 1000Vdc with 50kA IR, Cooper Bussmann Combiner Boxes provide the ultimate in protection for sensitive photovoltaic systems. Customers are able to protect and connect two to 24 photovoltaic strings or arrays with complete flexibility in enclosure types and fusing options. Whether standard, compact or integrated disconnect, all configurations are ETL Listed to UL 1741and include IP20 finger-safe CH Series modular fuse holders. Sixty popular Combiner Box configurations in NEMA 4X fiberglass and plastic enclosures are in stock and available for Quik-Ship™ service within three business days of the order.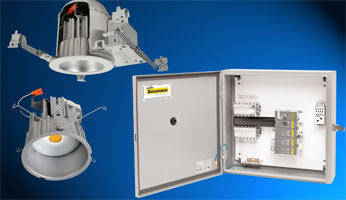 Cooper Lighting's Halo LED 900 Series' modules consume less than 15W and deliver between 511-945 lumens–up to 66 lumens per watt (Im/W)–depending upon the selected trim and color temperature. The series exceeds the light output and distribution of a 75W PAR30 or PAR38 halogen lamp, 85W BR40 or a 26W compact fluorescent luminaire. The Halo LED downlights can also be dimmed to adjust the brightness level as the day's activities change, and is designed to last 50,000 hours—up to 20 years when used six hours a day. The downlights can be used in new construction or to retrofit existing buildings and homes. Halo was the first in the industry to receive ENERGY STAR® qualification for an LED downlight product.
In addition to Consulting-Specifying Engineer, the Halo LED 900 Series downlights have also been recognized for excellence by the Next Generation Luminaires™ (NGL) Solid-State Lighting Design Competition, sponsored by the U.S. Department of Energy, the Illuminating Engineering Society of North America and the International Association of Lighting Designers.
This year's Consulting-Specifying Engineer product winners were featured in the publication's September issue. The winning entries are also showcased online at www.csemag.com.
To learn more about Cooper Industries and its comprehensive range of electrical products and solutions, visit www.cooperindustries.com.