Cooper Industries plc (NYSE: CBE), a global provider of electrical solutions, recently took part in a community center renovation and the construction of the Rhodes home in Columbus, Ohio, for the ABC hit show, Extreme Makeover: Home Edition. Designed to provide both with new, improved spaces featuring eco-friendly solutions, Cooper Lighting and Cooper B-Line products proved to be an ideal fit.
 
To provide general and accent lighting throughout the home, the Extreme Makeover: Home Edition team installed Cooper Lighting's high-quality Halo 4-inch LED and 6-inch recessed downlights. The Halo LED downlights consume over 75 percent less energy than traditional 65-watt incandescent fixtures and are designed to last more than 50,000 hours or 20 years when used six hours a day.  Featuring a warm color temperature of 3000K in the Rhodes home, Halo also offers additional color temperatures of 2700K, 3500K and 4000K to satisfy every home lighting need.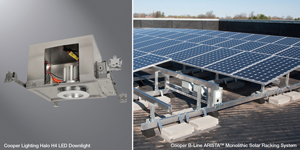 In addition to building a new home, the show also set its sights on the renovation of a nearby community center. Going green, the center's new solar system features panels housed on Cooper B-Line's ARISTA Monolithic racking system. Designed for quick and easy installation, it fit perfectly into the show's tight production schedule. The product, securing more than 12kW of solar modules, features a limited number of pre-assembled components to offer installers both a time and cost savings. It is ideal for both portrait and landscape mounting, accommodates virtually any type and size of solar panel and includes pre-assembled ballast strips with many alternatives including a positively tied option. For added efficiency, it also includes Cooper B-Line's DURA-BLOK™ supports constructed from 100 percent recycled rubber.
 
"As past supporters of the show, we were thrilled to provide our efficient solutions to a family and community so deserving of these major renovations," said Cooper Industries Chairmen and CEO Kirk S. Hachigian. "Through the use of our products we hope that others watching this amazing renovation come to recognize the many efficient solutions available and the benefits of choosing energy-efficient products."
 
To learn more about the products used by the Extreme Makeover: Home Edition crew, visit the Cooper Industries site at www.cooperindustries.com. 
 
About Cooper Industries
Cooper Industries plc (NYSE: CBE) is a global electrical products manufacturer with 2011 revenues of $5.4 billion.  Founded in 1833 Cooper's sustained success is attributable to a constant focus on innovation and evolving business practices, while maintaining the highest ethical standards and meeting customer needs.  The Company has seven operating divisions with leading market positions and world-class products and brands, including Bussmann electrical and electronic fuses; Crouse-Hinds and CEAG explosion-proof electrical equipment; Halo and Metalux lighting fixtures; and Kyle and McGraw-Edison power systems products.  With this broad range of products, Cooper is uniquely positioned for several long-term growth trends including the global infrastructure build-out, the need to improve the reliability and productivity of the electric grid, the demand for higher energy-efficient products and the need for improved electrical safety.  In 2011 fifty-nine percent of total sales were to customers in the industrial and utility end-markets and forty percent of total sales were to customers outside the United States.  Cooper has manufacturing facilities in 23 countries as of 2011.  For more information, visit the website at www.cooperindustries.com.
 
About ABC-TV's "Extreme Makeover: Home Edition"
The Emmy award winning reality program "Extreme Makeover: Home Edition," now in its 9th season, is produced by Endemol USA, a division of Endemol Holding. It's executive-produced by Brady Connell and George Verschoor. David Goldberg is Chairman, Endemol North America. Episodes air Friday nights from 8:00 – 9:00pm, ET on ABC.