Cooper Lighting, an industry leader committed to delivering innovative products and driving transformational technology in the lighting industry, announced that it has partnered with the Long Island Power Authority (LIPA) and nine local electrical distributors to help promote the use of ENERGY STAR®-qualified LED lighting in homes.
Cooper Lighting, a leader in energy-efficient solutions offering the broadest selection of recessed downlights including the first ENERGY STAR®-qualified HALO LED downlight and IRIS high-performance architectural products, has partnered with LIPA to offer its universal All-Pro LED Retrofit Recessed Downlight to promote both energy efficiency and cost savings.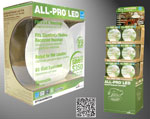 Through its Residential Energy Efficient Lighting Program, one of the many programs under LIPA's Efficiency Long Island, customers can purchase Cooper Lighting's All-Pro LED Retrofit Recessed Downlight at a deeply discounted price. With an LED module and recessed trim, this energy-efficient product is designed to retrofit inefficient incandescent lighting with LED technology. On display at nine Long Island electrical distributors, the All-Pro LED downlight is available for purchase at a special promotional price through November 30, 2011.
"Lighting can account for up to 15 percent of the average electric bill, mostly due to the use of inefficient fixtures and light bulbs," said LIPA's Chief Operating Officer Michael Hervey. "ENERGY STAR-qualified LED lighting can use up to 75 percent less energy and lasts at least 25 times longer than incandescent bulbs. We continue to assist and encourage customers to replace inefficient lighting with new LED technology at a reduced cost, which in turn will result in lower electric use and lower bills for our customers."
Cooper Lighting's All-Pro LED Retrofit Recessed Downlight fixture is designed to fit into both 5-inch and 6-inch standard and shallow recessed housings by Halo, All-Pro or compatible recessed housings. Meeting today's stringent ENERGY STAR requirements, the product consumes less than 15 watts and delivers over 600 lumens (comparable in light output and light distribution to a 65-watt BR30 incandescent lamp) and is designed to last 50,000 hours, or more than 20 years, when used six hours per day. To save additional energy, the product can also be dimmed. Based on those figures, replacing one incandescent light bulb can easily save hundreds of dollars over the life of the fixture.
The Cooper All-Pro LED downlight also provides a preferred warm white color of 3000K correlated color temperature (CCT). Installation is accomplished in almost no time by simply screwing the adapter into the existing recessed downlight socket. View the All-Pro instructional video for additional information.
"As homeowners become more receptive to new lighting technologies, they not only want energy-efficient solutions, but high quality, reliable ones," said Cooper Lighting President Mark Eubanks. "Cooper Lighting's All-Pro LED Retrofit Recessed Downlight meets these needs by using tested LED technology to achieve the savings and quality of light that homeowners desire."
Not all LED lighting fixtures perform to ENERGY STAR standards. To qualify for ENERGY STAR, LED lighting products must pass a variety of tests to prove that the products will display the following characteristics:
• Brightness is equal to or greater than existing lighting technologies (incandescent or fluorescent) and light is well distributed over the area lighted by the fixture.
• Light output remains constant over time, only decreasing toward the end of the rated lifetime (at least 25,000 hours or 22 years based on use of 3 hours per day).
• Excellent color quality. The shade of white light appears clear and consistent over time.
• Efficiency is as good as or better than fluorescent lighting.
• Light comes on instantly when turned on.
• No flicker when dimmed.
• Manufacturers must provide a three-year minimum warranty on their ENERGY STAR-qualified LED fixtures, so their products are guaranteed.
To purchase Cooper Lighting's All-Pro LED Retrofit Recessed Downlight as part of LIPA's program, please visit one of these participating electrical distributors.

• AC Electrical Supplies (631-265-2252)
• Aetna Electric (516-931-4400)
• Continental Lighting (800-560-1466)
• Duplex Electrical Supply (516-625-8181)
• Greenvale Electric Supply (516-671-1440)
• Michaels Electrical Supply Corp. (516-593-7200)
• N&S Electric Supply (631-421-4696)
• Revco Lighting and Electrical Supply Inc. (631-283-3600)
• Yorktown Electrical & Lighting Distributors (631-957-9000)
For additional information on the LIPA program, visit the www.lipower.org website or click here.
Since 1999, the LIPA program has experienced a successful market impact of ENERGY STAR-qualified lighting products. LIPA continues to expand the lighting products promoted through its Residential Energy Efficient Products Program as well as other programs including its Commercial program.
Cooper Lighting has made a significant investment in people, resources and technology to ensure the company provides first-class solutions to its customers' lighting challenges. The Company offers a range of indoor and outdoor LED lighting products and controls, all of which are specifically designed to minimize energy consumption and maximize cost savings. For additional information on Cooper's LED product offering, click here.

About Cooper Lighting
Cooper Lighting, a subsidiary of Cooper Industries plc (NYSE: CBE), is the leading provider of world-class lighting fixtures and controls to commercial, industrial, retail, institutional, residential and utility markets. As lighting technologies have advanced over the years, Cooper Lighting has been at the forefront of the industry in helping businesses and communities leverage the latest technologies to improve efficiency, reduce costs and enrich the quality of the environment. For more information, visit www.cooperlighting.com.
About Long Island Power Authority (LIPA)
LIPA, a non-profit municipal electric provider, owns the retail electric Transmission and Distribution System on Long Island and provides electric service to more than 1.1 million customers in Nassau and Suffolk counties and the Rockaway Peninsula in Queens. LIPA is the 2nd largest municipal electric utility in the nation in terms of electric revenues, 3rd largest in terms of customers served and the 7th largest in terms of electricity delivered. In 2008, LIPA outperformed all other overhead electric utilities in New York State for frequency of service interruptions, and ranked second for duration of service interruptions. LIPA does not provide natural gas service or own any on-island generating assets. More information about LIPA can be found online at: http://www.lipower.org.
About Cooper Industries
Cooper Industries plc (NYSE: CBE) is a global electrical products manufacturer with 2010 revenues of $5.1 billion. Founded in 1833, Cooper's sustained success is attributable to a constant focus on innovation, evolving business practices while maintaining the highest ethical standards and meeting customer needs. The Company has seven operating divisions with leading market positions and world-class products and brands including: Bussmann electrical and electronic fuses; Crouse-Hinds and CEAG explosion-proof electrical equipment; Halo and Metalux lighting fixtures; and Kyle and McGraw-Edison power systems products. With this broad range of products, Cooper is uniquely positioned for several long-term growth trends including the global infrastructure build-out, the need to improve the reliability and productivity of the electric grid, the demand for higher energy-efficient products and the need for improved electrical safety. In 2010 fifty-nine percent of total sales were to customers in the industrial and utility end-markets and thirty-nine percent of total sales were to customers outside the United States. Cooper has manufacturing facilities in 23 countries as of 2011. For more information, visit the website at www.cooperindustries.com.