If you're planning on watching the 2016 College Football Playoff National Championship game next Monday, January 11 between the Alabama Crimson Tide and the Clemson Tigers, check out the stadium field lighting. Being played under the lights at the University of Phoenix Stadium in Glendale, Arizona, home to the Arizona Cardinals NFL football team, the venue features Eaton's latest advanced LED sports lighting technology from its Ephesus Lighting business.

The University of Phoenix Stadium is a 63,400 seat multipurpose stadium and is regarded as a model of innovation, with its retractable roof and field, as well as the owner's commitment to sustainability. Hosting such events as the 2014 Fiesta Bowl, 2015 Pro Bowl and 2015 Super Bowl, owners decided to upgrade the sports lighting in 2014 when the facility was experiencing poor light quality and high maintenance costs with its metal halide sports lighting system. In addition, lighting quality for HDTV sports broadcasting was a major concern with the 2015 Super Bowl to be played at the stadium. Operators were also conscious of the power outage that occurred at the New Orleans Superdome in 2013 and the long lighting restrike delay that followed once power was restored.
The lighting upgrade included the replacement of metal halide lights with Eaton's Ephesus Stadium Pro LED fixtures and the installation of a control system to provide better operational efficiency and flexibility. The Ephesus solution included wired DMX controls on each fixture to interface with the control system. This provides instant, one-touch control to switch between different light settings and levels, as well as the ability to create unique fan experience effects.
The result has been a remarkable increase in light and uniformity on the field, which greatly improves the HDTV sports broadcasting experience, including camera operators getting more clarity and greater depth of focus. Operators are able to zoom in tighter on replays and provide super slow motion without the flicker-effect or blurriness that is often associated with zooming in.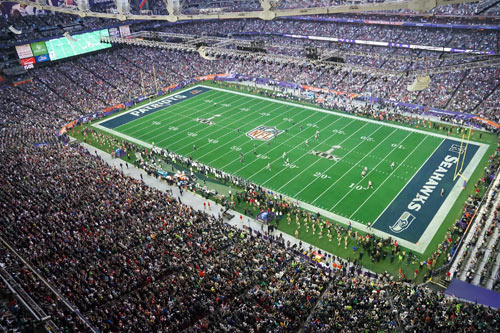 To learn more, visit www.ephesuslighting.com.
Click here to read the complete Case Study.
Stadium Photo Credit: Spectra