As part of an ongoing sustainability initiative, the city of Virginia Beach, Virginia has selected Cooper Lighting, a division of Cooper Industries plc (NYSE: CBE), for a range of interior and exterior LED lighting upgrades to its Virginia Beach Convention and Visitors Bureau.
With the intention of reducing energy and maintenance costs, as well as improving lighting quality, the city is in the process of replacing the Visitors Bureau's existing High Intensity Discharge (H.I.D.) lighting with more energy-efficient LED fixtures from Cooper Lighting. Upon completion of the retrofit project, a mix of Cooper Lighting LED products will help the Visitors Bureau achieve its goals.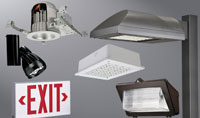 On the exterior, Cooper Lighting McGraw-Edison Concise LED Canopy fixtures, Talon LED Area Luminaires, and Lumark LED Wal-Pak fixtures will illuminate the building and parking lot, providing security lighting to both the perimeter and parking lot areas. On the interior, HALO Stasis LED Track Luminaires will brighten a glass mural and HALO LED Recessed Downlights will be in the facility's interior. Sure-Lites LED exit signs will also be installed throughout the building.
"The resulting energy savings and return on investment associated with switching to LED lighting make it a practical choice for facility owners looking to save money while improving light levels," said Mark Eubanks, Vice President and General Manager at Cooper Lighting. "We're pleased the city of Virginia Beach recognizes the benefits of Cooper Lighting LED products."
This complete assortment of LED fixtures represents Cooper Lighting's ability to meet today's multi-faceted indoor and outdoor lighting needs. The company offers a range of LED lighting options, all of which are specifically designed to maximize energy and cost savings.
For additional information, visit www.cooperlighting.com/led.
About Cooper Lighting
Cooper Lighting, a subsidiary of Cooper Industries plc (NYSE: CBE), is the leading provider of innovative, high quality interior and exterior lighting fixtures and related products to worldwide commercial, industrial, retail, institutional, residential and utility markets. As lighting technologies have advanced over the years, Cooper Lighting has been at the forefront of the industry in helping businesses and communities leverage the latest technologies to improve efficiency, reduce costs and enrich the quality of the environment. For more information, visit www.cooperlighting.com.