Birchwood Lighting, manufacturer of high quality specification-grade light fixtures, introduces an entirely re-designed website showcasing a fresh new look along with up-to-the-minute product information, improved functionality and easier navigation.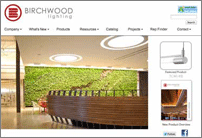 Special Website features include: News and Events pages; Company Profile information; Project Gallery featuring full-color project photography; Company contacts, Complete Product Overview catalog, and Product pages featuring completely re-designed spec sheets with easy to use ordering guidelines, in-depth specification details, updated photography and graphic images.
Unique Debut Website features include: Interactive Chat Line with devoted "real-time" access to Customer Service, Tech Support and Order Tracking Departments; Improved Search Engine capability providing quick access to precise product information via part number or product name; Rep Finder Map with new graphic interface for fast and easy rep location, and Company Contact section spotlighting Birchwood Lighting personnel.
All product specification sheets, instruction sheets, catalogs and brochures, IES files and photometric data are available for download.
Design:
Birchwood Lighting In-House Marketing Team
Ordering Information:
Information regarding Birchwood Lighting or product information is available at:
www.birchwoodlighting.com
E-mail: [email protected]