First time ever! B-K Lighting's Marketing and Sales Department is among the nominees for a 2010 Addy Award.
Sponsored by the Fresno Advertising Federation, the Addy Awards celebrate the best in local advertising, commercial design and marketing campaigns.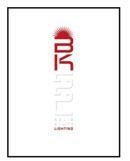 B-K Lighting is nominated in the Sales Promotion Division for its recently released BKSSL™ Catalog. Also known as the "White Book," the 112 page, perfect bound, four-color catalog with an embossed cover showcases individual products with beautifully photographed application shots. Each product photograph demonstrates the fixture in use. Cleverly crafted icons conveniently illustrates product features and benefits for easy reference.
The upscale design was the design concept of Senior Graphic Designer Toni Eamigh and Marketing Manager Becky Carlson. All copy was written and edited by Executive Vice President Ron Naus and Internet Content Coordinator Eddie Cadena. Photographs taken by Jason Mendez and printing by City Press.
Winners of the 2010 Addy Awards will be announced on March 12, 2010. Congratulations to the B-K Lighting Marketing and Sales Departments for this outstanding achievement.
ABOUT B-K LIGHTING
Since 1984, B-K Lighting has been dedicated to providing the lighting industry with the highest quality, most innovative and fairly priced outdoor lighting fixtures available. B-K Lighting manufactures standard and custom fixtures for architectural and landscape lighting including path, sign, area, flood, recessed building mounted, and in-grade applications. B-K Lighting products are installed in high-end residential and landmark applications around the world.