Everyone has been affected by the current pandemic, and our distribution partners in the electrical/lighting market segments are no exception. Lockdowns have exacted a toll on business, causing customers to stay at home, preventing salespeople from visiting customers, and leading to re-prioritization of energy-efficient lighting projects. However, during this period, Aleddra noticed that market demand for its Emergency LED T8 Lamp went up, rather than down. We believe there are two possible reasons for this. Firstly, emergency lighting is a safety equipment and its importance increases during a safety-related crisis. Secondly, the budget pressure forces facilities managers to consider more cost-effective alternatives to the typically expensive emergency ballast for the T8/T5 lamp.
We at Aleddra are grateful for the hard work of our distribution partners during this difficult time, and would like to offer the following affordable purchase program for our best-selling Emergency T8/T5 Lamp, in the hopes of taking some of the cost burden off of our customers.
Affordable Emergency T8/T5 Lamp Program
- Effective immediately until 12/31/2020 (PO must use promo code: AFFORDABLE EM)
1. Affordable: Aleddra will provide an Instant Manufacturer Rebate of $5 per lamp and free freight with purchase in case quantity (25 pcs per case). (Less than case quantity purchase would not qualify for instant rebate and would be subject to case breakage charge.)
2. No-risk Stocking: Aleddra customers can return any unsold quantity of EM T8/T5 to Aleddra by 1/31/2021 without any risk or cost. Aleddra will cover the return freight.
This program applies to the following emergency tube products:
-Gen2 EM T8: controllable by wall switch
-Gen3 EM T8: quick ballast-bypass for always-on applications
-Gen4 EM T8: self-testing/self-diagnosis (available from the end of July)
-Gen2 EM T5: controllable by wall switch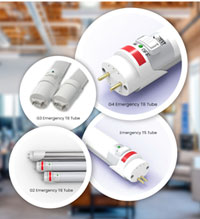 For more information, please contact your local agents or Aleddra at [email protected] or 425-430-4555.