Aleddra, a Seattle-based LED lighting manufacturer, announced today that they have achieved 500% sales growth for its dual-mode LED PL lamp this year. The Aleddra dual-mode LED lamps have quickly become the #1 choice for CFL replacement. With its patent-protected driver technology, the Aleddra LED PL lamps boast two UL certificates: one for Type A (with ballast) and one for Type B (line voltage). The 360-degree beam angle saves the trouble of counting the number of vertically or horizontally lamps required.
"Many customers switched from other vendors to Aleddra this year after they discovered the technical superiority of the Aleddra dual-mode LED PL lamps", stated Matthew Maa, VP Sales & Marketing. "They don't have to worry if the existing ballast is compatible. If it isn't, they can simply bypassing the ballast. Aleddra stocks these lamps (99% fill rate) in a number of base choices and color temperatures. Aleddra is here to fill your PL LED lamp orders when others are not due to financial or inventory level issues.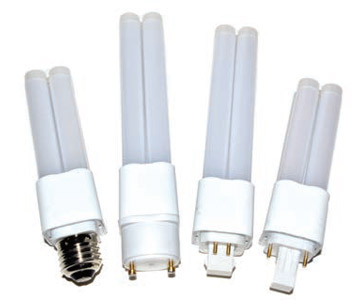 Highlights of Aleddra dual-mode LED PL lamp:
-6W for 13W CFL replacement; 11W for 26W CFL replacement
-Efficacy: 120 lm/w; CRI > 80; 360-degree beam angle
-Base: G24Q (4-pin), GX23-2 (2-pin), G24D-3 (2-pin), GU24 & E26
-Color Temperatures: 2700K, 3000K, 3500K, 4000K, 5000K
-Input voltage: 110V – 277V
-5-year warranty
-Cut Sheet can be downloaded at here.
For more information, please email Aleddra at [email protected] or call us at 425-430-4555.