Aleddra LED Lighting, a business unit of Lightel Technologies, Inc., today announces its high-performance Star Highbay LED luminaire is available in the North American market as an energy efficient solution for high bay lighting application.
Aleddra LED lighting is a leader in LED retrofit segment for the fast market growth of its highly popular EasiRetrofit™ LED T8 tube lamp used to replace linear T8/T12 fluorescent tube lamp. The new UL certified high-performance Star LED High bay luminaire expands its product coverage for indoor lighting. It is designed to replace traditional high bay lighting for commercial and industrial applications such as factories, warehouses, supermarkets, exhibition halls and gymnasiums. The Aleddra Star High bay features an exquisite exterior design that distinguishes itself from all other industrial looking LED high bay lights, and it adds a pleasant touch to the environment where it is installed.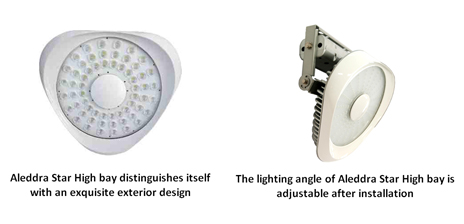 "We are very exciting with this new Star High bay fixture" says Patrick Yu, the General Manager of Aleddra LED Lighting. "It builds on top of our success with the LED T8 high bay that uses our popular EasiRetrofit™ LED T8 tube lamp. Now with this compact, beautifully designed high bay fixture and its adjustable lighting angle, our customers now have a wider selection to meet their high bay lighting needs."
With an efficacy of 90 lumens per watt, Aleddra Star High bay at 135W provides 12,500 lumens and far exceeds the lighting requirements of industry standards. It comes with CRI>70 and a Power Factor > 0.9. By using top of the line components such as CREE XTE LED chips and Philips Xitanium universal power supply, Aleddra Star High bay is rated for more than 50,000 hours and backed by 5-year warranty. A rapid heat dissipation coating on the heat sink further prolongs the life time of the lamp. The combined benefit of Aleddra Star High bay features is to greatly reduce the energy consumption and the maintenance cost for our customers, resulting a quicker project payback period when compared to other LED high bay products.
Additionally, Aleddra Star High bay fixture is engineered to meet dust and water protection level greater than IP65 so it can be safely used for both indoor and outdoor environment. Various mounting styles (ceiling mount, surface mount, wall mount, pole mount) are available from Aleddra for meeting our customer's application needs.
Aleddra Star High bay will make its debut at LEDucation 7 (http://www.leducation.org/) on March 20 in New York City. More high bay models will be on display at LightFair 2013, Booth 2459, from April 23-25 in Philadelphia (http://www.lightfair.com/lightfair/V40/). For additional information, please call 425-430-4555 or visit www.aleddra.com.
About Aleddra LED Lighting
Aleddra LED Lighting is a business unit of Lightel Technologies, Inc. chartered to bring customers the most sensible LED lighting solutions for efficient energy use and participating in preserving non-renewable energy. It is best known for its EasiRetrofit™ LED tube with a patented double safety switch design that saves 50 to 70% of installation time and labor cost compared to other LED tubes. Aleddra LED T8 light tubes are UL 1598C and they can be used with both shunted and non-shunted tombstones. Aleddra backs its lamp with a 5-year warranty. They are ideal for used in LED T8 high bay fixtures that result in significant energy savings. Also available from Aleddra are PAR lamps, MR16, GU10, and more.
PR Contact: Matthew Maa, Marketing Manager at 425-430-4555, or visit www.aleddra.com.