Aleddra will showcase at Chicago LightFair 2018 the application of advanced TTA Nano Composite technology to ordinary LED lights, which converts them into Antiviral LED products. Recently, other fixture companies have introduced antibacterial technologies into their lighting fixtures that use "near-UV light LED". The patented Antiviral TTA™ Material used by Aleddra is unique and at a superior level! The Aleddra TTA Nano Composite is non-chemical, non-toxic, odorless, permanent, and easy to use. Below, you will find feature by feature comparisons of the two kinds of antibacterial lighting technology.

The fixture featured below is a self-air circulating LED panel light, the Antiviral TTA™ technology is incorporated into the "field replaceable" air filters. The lens of the panel light is coated with the Antiviral TTA™ Composite Material. The fixture effectively eliminates airborne viruses, bacteria, funguses, and TVOCs from the air. For detailed information, please view the following demonstration: https://www.youtube.com/watch?v=q6KFp3YvfAA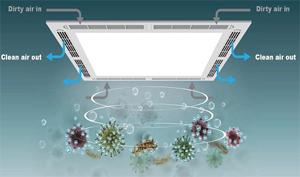 At LightFair, Aleddra will demonstrate the use of Antiviral TTA™ Material on various LED fixtures, lamps, and non-traditional device such as an antiviral LED air purifier and face mask. Agents, distributors, and OEM customers please visit us at #LFI booth #241.
For more information, please email [email protected] or call us at 425-430-4555.