Albeo Technologies, a leader in LED lighting, receives the U.S. Department of Energy's Next Generation Luminaire (NGL) Market Ready Award for their C-Series™ white-LED Solid-State High Bay light fixture. The NGL award recognizes manufacturers who develop innovative commercial luminaires that are energy-efficient and provide high lighting quality and consistency, glare control, lumen maintenance, and luminaire appearance needed to meet specification lighting requirements.
Albeo's winning C-Series™ LED High Bay luminaire is designed to replace 400 W HID light fixtures that are used for general illumination in large buildings such as warehouses, manufacturing facilities, retail stores, cold storage facilities, gymnasiums, and convention centers. Using patent-pending TEMPR™ thermal technology, Albeo's LED High Bay lowers energy usage and reduces maintenance costs.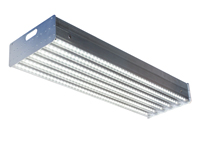 The C-Series High Bay is the flagship of Albeo's complete line of industrial and commercial light fixtures that provide LED lighting solutions for a wide range of fluorescent and HID solutions, summarized in the table, and detailed at Albeo's website.
"We congratulate all the winners and are very pleased to receive this award from the DOE. Federal sponsorship of awards for the advancement of lighting efficiency shows U.S. commitment to becoming an environmentally friendly nation," said Jeff Bisberg, CEO, Albeo Technologies. "Albeo is committed to providing high-performance quality products that deliver impressive operational savings to our industrial and commercial customers."
To learn more visit www.albeotech.com and download specifications and photometrics. Call 866-825-5420 toll free to get a quote on your unique job.
Details on the NGL award can be obtained at http://www.ngldc.org/08/winners.stm.