Aerolume, a sleek new series of LED streetscape and parking lot fixtures, is now available from U.S. Architectural Lighting, a manufacturer of American-made products based in
southern California.
With full-cutoff optics, the Aerolume can be wall or pole-mounted and is recommended for solid state lighting in civic centers, shopping malls, parks, roadways and other public areas. Available in two sizes, the Aerolume and Mini-Aerolume incorporate Luxeon® Rebel LED emitters in a self-contained LED module that ensures energy-efficient operation and longer-lasting performance.
The LED module features advanced thermal management for long LED life and high output, and an integrated and sealed tempered glass lens to protect the emitters and optics. Proprietary LED refracting optics offer four precise light distribution patterns for all site requirements: Type II, III, IV, and V square.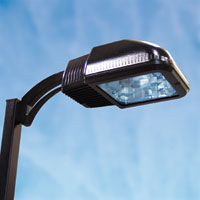 Aerolume's contemporary styling incorporates heat-dissipating fins and ribbed vents that allow the free flow of air around the LED module for optimal thermal management and system longevity. LED emitters are available in neutral white (4100K) or cool white (6500K) and can be specified in range of sizes and wattages.

Standard Aerolume (23" long, 18" wide and 8" deep) is available with 48 LED (120 watt); 64 LED (160 watt); or 80 LED (200 watt).
Mini-Aerolume (19" long, 13 ½" wide and 6 ½" deep) has 16 LED (40 watt); 32 LED (80 watt); or 48 LED (120 watt). The proprietary LED driver is encased in a water-tight housing and accepts input voltages from 100 to 277 VAC.
Fixture housing is constructed from one-piece cast aluminum and finished with a polyester powder coating that is baked at 400º for maximum hardness and durability. Standard finishes include: black, white, grey, dark bronze or green and custom colors are available. The mounting arm (with adjustable knuckle) is designed with soft corners and horizontal ribs to complement the housing and door frame. It is constructed from heavy-wall extruded aluminum and all exposed hardware is stainless steel.
For more information about the Aerolume series, contact U.S. Architectural Lighting at 800.877.6537 or visit the website at www.usaltg.com.