Power management company Eaton today announced that the biggest names in the National Hockey League (NHL®) and American Hockey League (AHL) will play their all-star events this weekend under its innovative and energy-efficient light-emitting diode (LED) digital lighting system.

Bridgestone Arena in Nashville, Tennessee, will host the NHL All-Star Skills Competition™ on Saturday, Jan. 30, and the NHL All-Star Game on Sunday, Jan. 31. The 2016 AHL All-Star Classic activities will take place on Jan. 31 and Monday, Feb. 1, in Onondaga County War Memorial Arena in Syracuse, New York. The two venues are among the latest sports facilities to adopt Eaton's Ephesus LED system technology to improve lighting, operational flexibility, energy-efficiency and fan engagement.

"The combination of improved lighting and fan entertainment elements – coupled with the environmental benefits and lower operating costs – made Eaton's Ephesus LED system an easy choice to add to our upgrades at the Bridgestone Arena," said Tim Friedenberger, vice president, Facility Operations, Bridgestone Arena. "We are especially excited about showcasing the new system during the NHL All-Star Weekend, when the eyes of the hockey world are upon Nashville."

"It's no surprise that both of these all-star events are at venues illuminated with our digital lighting solution," said Mike Lorenz, president, Eaton's Ephesus Lighting business. "We offer specific benefits that are unique to hockey, including the ability to change the color temperature of the light. Also, because our lights emit no heat, there's less strain on the HVAC system, which results in the best ice condition available."

Every year, the biggest sporting events, like the 2015 professional football championship and this year's college football national championship games, are played under Eaton's Ephesus LED system.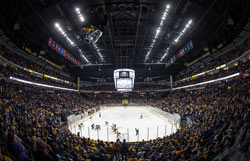 The two facilities hosting the mid-season hockey festivities are among the most recent professional hockey venues to install an LED lighting solution. In 2012, the War Memorial Arena at The Oncenter in Syracuse, home of the AHL's Syracuse Crunch, was the first sports arena in North America to make the switch to LED lighting. Bridgestone Arena, home ice for the NHL's Nashville Predators, installed the system this season. In between, more than a dozen other hockey arenas, including seven other AHL venues and the Canadian Tire Centre in Ottawa, Canada, have made the switch.

Eaton's Ephesus Lighting business has led the LED lighting explosion at sports and entertainment facilities across North America by engineering digital lighting solutions that provide a significant increase in illumination when compared to all other lighting systems. Ephesus' LED lighting is brighter than traditional systems and through its industry-leading glare-control innovations, its fixtures shine more uniformly on the playing surface, creating a better stage for players and fans both in the stadium and those watching on high-definition television. The versatility of LED also allows for operational flexibility and the creation of programmable light shows for fan entertainment. Ephesus LED solutions are easy-to-install, virtually maintenance-free for years and offer facilities the lowest total operating costs compared to other sports lighting systems.

Since lighting the first sports venue with LED technology in North America in 2012, Eaton's Ephesus luminaires have been operational for over 200 million hours at indoor and outdoor sports and entertainment venues across North America including the University of Phoenix Stadium, the Canadian Tire Centre, Duke University, Cornell University and many more.

To learn more about the LED lighting system installed at Bridgestone Arena, view this video.

Eaton's Ephesus Lighting business manufactures high-output LED lighting solutions for challenging applications in the industrial and sporting markets. The business is focused on innovating advanced LED solutions that will enrich and illuminate the world, by creating brighter, more vibrant and more sustainable environments. For more information, visit www.ephesuslighting.com, follow us on Twitter @EphesusLighting or contact us at 315-579-2873 or [email protected].

Eaton's electrical business is a global leader with expertise in power distribution and circuit protection; backup power protection; control and automation; lighting and security; structural solutions and wiring devices; solutions for harsh and hazardous environments; and engineering services. Eaton is positioned through its global solutions to answer today's most critical electrical power management challenges.

Eaton is a power management company with approximately 97,000 employees. The company provides energy-efficient solutions that help our customers effectively manage electrical, hydraulic and mechanical power more efficiently, safely and sustainably. Eaton sells products to customers in more than 175 countries. For more information, visit www.eaton.com.