Add drama to a space with Abstract, the new sculptural linear LED pendant from Modern Forms. This luminaire is illuminated with indirect light against the sculptural metal blades and supplemented with a down light for a dimensional yet functional effect.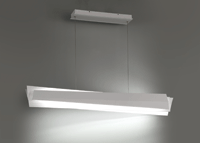 The Abstract pendant is offered in white and titanium finishes and pairs wells with the unique Abstract wall luminaire. The modern art sconce reveals factions of geometric shapes featuring LEDs concealed within folded layers to permit light to playfully escape through the interplay of reflectance.
With the transformer located in the canopy, the Abstract LED pendant provides full range dimming when used with compatible dimmers. The pendant has a 3000K CCT and a 90 CRI, with over 1500 delivered lumens.
The Abstract pendant has a maximum height of 108 inches and a width of 50 inches.

About Modern Forms
Engineered to the finest detail for unsurpassed performance and design sophistication, Modern Forms was established as a future forward manufacturer and innovative brand of unique upscale all-LED luminaires. Founded as an independent subsidiary of WAC Lighting, Modern Forms has taken North America by storm in the last five years with avant-garde designs that leverage LED technology developed exclusively by WAC engineering.
Modern Forms offers a vast presentation that achieves superior illumination from clean upscale forms only made possible with proprietary LED technology. Premium powder coat and plated finishes, marine grade stainless steel constructed designs, gold and silver leafing, and exclusively developed glass and crystal techniques are just a few of the features that speak to discriminating specifiers.
Modern Forms can be reached at 1.800.526.2588 or by visiting www.modernforms.com.