AccuLite Exeter E3 LED Series make a bold aesthetic statement while providing a robust light engine that delivers up to 10,000 lumens. These high performance luminaires are available with an extended range of decorative accessories -- rods, bands, rings, lenses and louvers – that can be combined and customized with special colors to create a new fixture look every time, for every application.

Exeter E3 LED offers you nearly unlimited choices in specifying a luminaire that conforms to your exact requirements. Four lumen packages are available, ranging from 5,000- to 10,000 lumens of crisp white light. These ultra-efficient luminaires are offered in 3000K or 4000K color temperatures with 80 CRI minimum, making them an ideal solution for architectural-grade, high bay interiors. And with a rated service life of 60,000 hours, they provide many years of maintenance-free operation.
A wide selection of decorative elements is available with E3 luminaires. Decorative bands, rods, rings, and lenses can be added and combined to create unique looking fixtures. In addition to standard white, black, or silver finishes, special finishes and colors can be ordered to fully customize the luminaire. Reflectors are available in 12-, 16-, and 22-inch diameters and are offered in prismatic borosilicate glass, spun aluminum, and premium Reflexor® acrylic. Aluminum reflectors can be painted to match the housing color, and acrylic reflectors can be clear, translucent, or opaque white.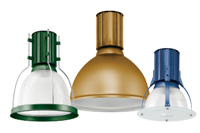 AccuLite Exeter E3 LED has an integral driver for quick and easy installation. The luminaire includes a ¾" hub that can be used for a hook and pendant style mounting arrangement. Additionally the fixtures can be ordered for cable suspension mounting.